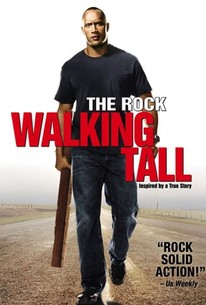 It is the simplicity of Walking Tall that makes it such a charming movie to watch. Charming wouldn't necessarily be the first thought when you see Dwayne Johnson brandishing a 2X4 and looking like he is about to "kick-ass" but this is a movie about good guys and villains, one-man versus them all and a small town that needs saving.
That is definitely a huge part of what makes this movie so effective. It isn't trying anything too grand. Dwayne Johnson is a marine who returns home from service to find that his town has changed: it is now corrupt, run-down dominated by a shady casino. What follows is one man's crusade against the "big corporation" and it works well because you are completely behind Johnson all the way.
There is no grey area here. Johnson is not a troubled veteran who struggles with the experience of war: neither is he a runaway who returns to town to face his demons. He is a good man, trying to clean-up and return his town to it's former glory. In this sort of role, Johnson fits the bill very well. He has a charming smile, good-natured attitude but can turn-on-a-dime and showcase his action roots when it matters most.
This comes in a few different scenes but doesn't do anything but play to Johnson's strengths. One scene sees him tear through a casino, with comical but fairly violent extremes, while there are also all manner of gunfights and showdowns that keep the movie raring at a fair pace.
The cast all work their parts well too. Johnson isn't alone, with support from Jackass's Johnny Knoxville in an early role. He brings some of the more comical relief and one section where him and Johnson "interrogate" a suspect is a highlight of the film. There is also the customary love interest but Ashley Scott has so little to do that she acts as nothing more than a token female.
For villain duties it falls to Neal McDonough. He has played this character before and does smarmy better than most. The issue will always be when the movie needs to get physical and the finale requires a showdown between the less than impressive physique of McDonough versus The Rock. It doesn't convince but does top-off a likeable movie.
Which is all that Walking Tall is: likeable. It won't rush to anyone's "favourite movie" lists but it will entertain. It is a movie-by-numbers and offers little surprises. The plot is standard but Johnson makes it more than watchable and it is executed very well.
Overall, Walking Tall is a solid movie which showcases Johnson's early acting talents. He is a character you can root for and although the plot is slightly simplistic, it doesn't do any harm and keeps you entertained. The cast is good, if somewhat mismatched, and if you want to forget yourself for a couple of hours, you could do a lot worse.
Rating – 3
(1 – AWFUL, 2 – AVERAGE, 3 – GOOD, 4 – GREAT, 5! – MUST SEE)
As always get in touch below with a comment but also like our page on Facebook (Views from the Sofa) or follow us on Twitter – @viewsfromsofa