Since Goldfinger, the Bond song has become as important a feature of a Bond film as the director, cast, villain and overall story. Some of the songs have become more famous than the films they supported, for both positive and negative reasons. Now we have had over 20 "proper" songs to accompany Bond movies, you can begin to see the key ingredients needed for the perfect Bond song.
Last week saw the release of Sam Smith's "Writing on the Wall." I have listened to it on repeat in preparation for this post and compared it to what I believe is the key criteria for the perfect Bond song – is Sam Smith's destined to be a classic or a forgotten, tricky quiz question?
Criteria 1 – The Voice
If you want an iconic Bond song then you need to get a powerful, iconic voice to match it. Thunderball had Tom Jones, Goldeneye had Tina Turner and most recently Skyfall had Adele. If you really want a successful Bond song, you get the most powerful voice of all – Shirley Bassey. Bassey has brought us the most iconic, with both Goldfinger and Diamonds are Forever.
Sam Smith has the voice too. Not Bassey, probably not Tom Jones but his sound can carry a note well and his voice doesn't get lost amongst the orchestra. His sound switches well between the low, softer moments and contrasts brilliantly with high, powerful points in the song that are classic Bond.
Criteria 2 – An Orchestra
A Bond song has to be big. It has to feel like it has been played by a whole orchestra of instruments. It needs strings, horns for the larger notes and haunting piano if possible. Bassey only sounds good if she has the whole band behind her, the same can be said for Adele in her instant Bond classic. The more forgettable Bond songs try to do something different. Chris Cornell's was good but will never be regarded as a classic, neither will Jack White's and Alicia Keys' effort. Madonna tried to blend both the pop and band and we all know how badly that turned out.
Writing's on the Wall doesn't quite have the Bassey Band feel but isn't a small, forgettable pop song. It uses haunting piano well, the strings bring the song to life and then it kicks in with classic Bond oomph for the rousing chorus.
Criteria 3 – The Bond Theme
It isn't in every Bond song but it is in the best. The Bond theme is the song that every Bond tune aspires too, so much so that some of the more creative weave the theme in amongst their own composition. You can hear it in Goldfinger, Diamonds are Forever and more recently in You Know my Name and Skyfall.
You can't hear it in Writing's on the Wall. That doesn't make it a bad Bond theme, just means that it doesn't have a specific sound and lacks a feeling that goes with the Bond song. Add that theme and it just brings another level to the music.
Criteria 4 – The Lyrics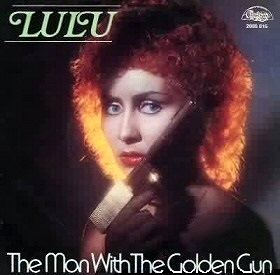 A Bond song needs to link with the film. It doesn't have to be a retelling of the plot but it also shouldn't be a completely detached song with little to no relation. Talking about "shooting to kill," "thrilling," "do or die" and any other theme that is apparent in Bond will always do. Add to that a sense of lust, seduction and (whisper it) love, and you get a relevant tune. Goldfinger was arguably about the principle character (or Bond?), Man with the Golden Gun did the same job, echoing lines from the film, a tactic that Garbage's The World is not Enough uses too.
The Writings on the Wall has been linked with one key scene in the trailer for the film. Aside from that, the links won't be apparent until we get to see the movie. It doesn't feel like there is much in the way of a link but the lyrics do seem to echo the usual themes, with lines like "I never shoot to miss" and "If I risk it all."
Criteria 5 – The Name
When the producers of the Bond movies name their Bond films, they are inadvertently throwing down a gauntlet to whoever will be creating the Bond song. Some have bravely risen to the challenge, from the strange Thunderball or Moonraker while others have decided to shy away completely, Chris Cornell for his Casino Royale theme and Jack White and Alicia Keys too – though quite how you write a song with the title Quantum of Solace I'm not sure.
Regardless, it doesn't quite feel like a Bond song if it doesn't have the same name as the film. Skyfall means nothing and Adele managed it, as did A-Ha with The Living Daylights. Spectre is hardly a terrible name for a song and although rhyming that would be practically impossible, it is up to any writer with talent to try. Smith loses points for me, Writing's on the Wall feels like a far too easy "cop-out."
Overall, Sam Smith's Writing's on the Wall ticks some of the key boxes for a Bond theme. It has a powerful voice, a big band feel to the song and some good, Bond style lyrics. It loses marks for not trying to link directly with one of movies best themes and for wussing-out on using the Bond movie title. It isn't the worst of the Bond themes but I fear it will soon be forgotten when the film fades from memory.