How much you enjoy Absolutely Fabulous will completely depend on how much of a fan of the original series you were. Not that this movie isn't accessible for anyone who hasn't seen the sitcom that inspired it but there is something about Absolutely Fabulous that means that nostalgia, knowing the characters and watching their story develop slightly further will appeal more to the "fans."
Luckily, Absolutely Fabulous is a film with some universal appeal and at the heart of it are two very (un)likable characters who drive the series and help it stay interesting throughout. People loved the original series which followed the antics of Jennifer Saunders as Edina Monsoon and Joanna Lumley as Patsy Stone and it is purely down to their great performances that this movie doesn't fail completely.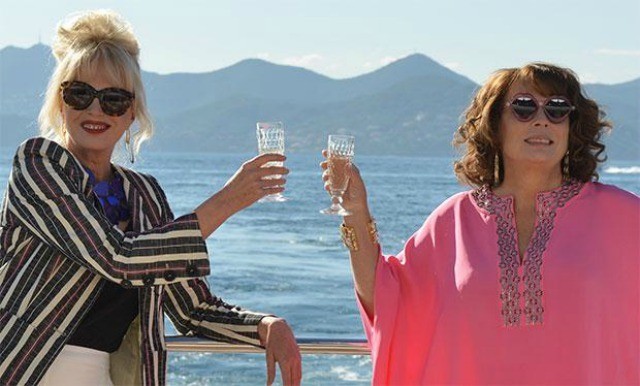 For starters, they fit the roles like old shoes, comfortably steeping into the delusional, crazy and often drunkard antics of their original nineties selves. This means some slapstick along with vulgar, obscene and cringe-worthy scenes which other actresses may shy away from.
Joanna Lumley is a particular stand-out. You'd say she was playing against-type if it wasn't for the fact she helped make this character such an icon. The fact that Lumley and Saunders look like they are having so much fun makes their performances so much better and there will definitely be at least one moment when you can't help but laugh-along.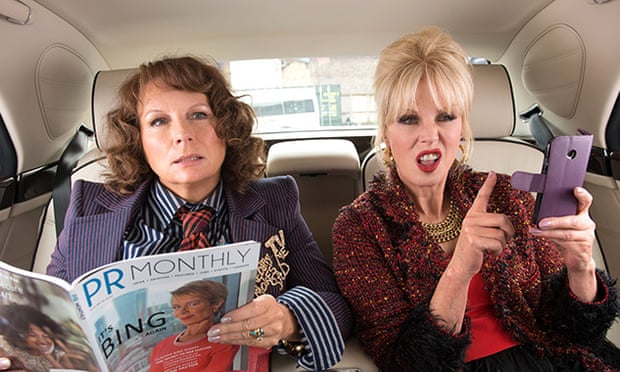 Unfortunately the humour isn't sustained. Absolutely Fabulous isn't a laugh-a-minute, although it does try. With any small-screen characters making it to the big screen, some jokes, antics and scenes don't transfer or become repetitive, with audiences hearing fat jokes aimed at Saunders (who wrote the film as well so must be glutton for punishment) continuously throughout.
This isn't the only big-screen transfer that Ab-Fab suffers from. Many of it's sitcom contemporary's have tried to make the transfer and found themselves falling foul of the usual issues. Absolutely Fabulous does the same, stretching an already paper-thin plot to stretching point and finding itself running out of steam by the absurd third act. To say that the story stalls and then abruptly ends would be an under-statement, as the situation that Saunders creates for the characters seems to neatly resolve itself in time for the ninety-minute mark.
It also has the desire to be bigger and bolder because it is on the big-screen. In this case Absolutely Fabulous uses it's iconic status to roll out a bevy of celebrity cameos, from the minor like former Spice Girl Emma Bunton through to the major which includes a central role for super-model Kate Moss. At times it feels like shameless use of star-power but it is also testament to the success of the original show that the stars want to be a part of it.
Overall, Absolutely Fabulous' movie will lease the many fans of the original as Jennifer Saunders and Joanna Lumley fit comfortably back into their iconic roles. The movie still suffers from it's sitcom background and the third act starts to see the wear and tear of a paper-thin plot.
Rating – 3
(1 – Awful, 2 – Average, 3 – Good, 4 – Great, 5! – Must See)