Once Baby Driver starts, it is clear that this is a movie doing something different. The music is so intrinsic to the whole experience that this could have been a musical. This is none more telling than in the opening car chase which doesn't just have a great soundtrack accompanying it but actually reacts, moves and is in perfect sync with the opening song.
Baby Driver is an ambitious film and it shows that brashness from the outset. The opening car chase is a thrilling one, with no holds-barred action, close-calls and ingenious moves that show-off the skills of the titular getaway driver. The fact that this opening segment is never bettered shows how well the movie begins.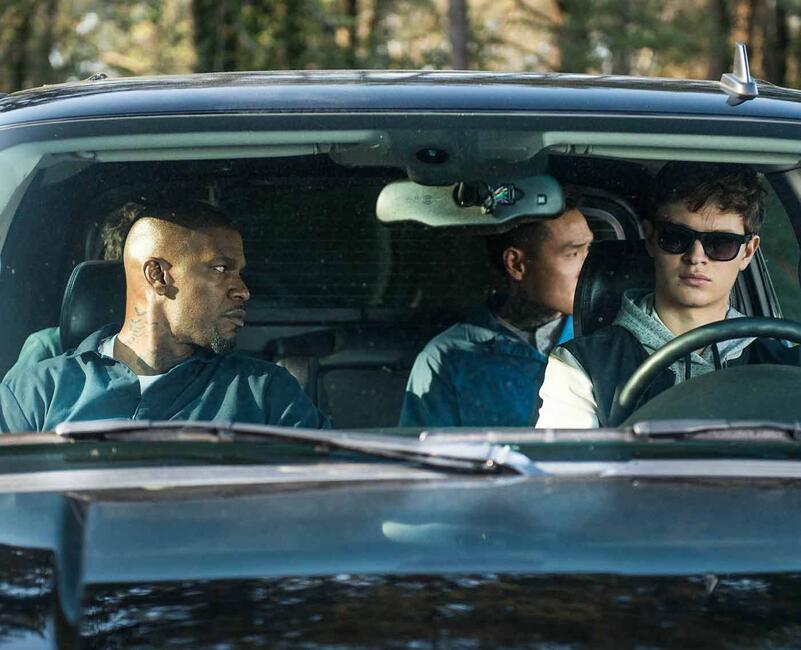 Luckily, there is more to Baby Driver than just music and driving (although the importance of the music is never far away). This is a love story, between the trapped getaway driver Ansel Elgort and the ambitious but equally trapped waitress played by Lily James. As with all good love stories though, there are obstacles, namely in the form of gangster Doc, played by the always effective Kevin Spacey and a host of Hollywood stars as his "gang."
Edgar Wright has clearly made a name for himself as a well-worked director and it has shown here with contributions from Jon Hamm, Eliza Gonzalez and best of all, a psychotic Jamie Foxx. In fact, Jamie Foxx steals the movie as the unhinged and unpredictable Bats, being equally as intriguing and appealing as a character as he is terrifying.
This is a movie that stands on the shoulders of Ansel Elgort and he gives probably his best performance yet. It is a role which sees him say very little but emote perfectly. The script is razor sharp with dialogue and cool moments but Elgort does well to stand-above this, being effective as a criminal but sympathetic enough that you are rooting for him to succeed.
That is why it is such a shame that Baby Driver can't maintain it's initial build and momentum. The car chases all diminish as the movie continue and never live up to the thrill of the first. This goes for the story as well, with the movie becoming fairly predictable, particularly as it starts to reach the "one last job" cliché that ultimately plagues most movies of this kind.
Even the music, which is so engrained within the structure and make-up of the movie, loses it's appeal and you begin to realise that rather than a clever story-telling device, it is in fact much more of a "gimmick" that adds very little.
Overall, Baby Driver is a clever, unique way to craft a heist movie. It has a star-studded cast which play very interesting characters, delivering one of Edgar Wright's classic scripts. The story is fairly recognisable but with some interesting car chases, great music choices and memorable, star-turn from Ansel Elgort, this film is a cut-above.
Rating – 4
(1 – Awful, 2 – Average, 3 – Good, 4 – Great, 5! – Must See)