This month we review a selection of movies from Empire's 100 Greatest Movies list. Today is Number 60: American Beauty.
There is a great appeal to a character who decides to start "taking matters into their own hands." In the case of Lester Burnham it is reshaping his life, quitting a dead-end job, speaking his mind to a disconnected family and starting to live life like he was a teenager again. The appeal comes in how much fun Burnham is having, relishing in his new found release and zeal for life.
For this to work effectively there had to be a great actor at it's centre and luckily, Kevin Spacey fits this role perfectly. He is a normal, everyday, every-man. There is nothing special about Spacey's character other than him representing so many men in America at that time. This plays into the role so well, as his gung-ho, lack of consequence attitude to his new lease on life feels much more realistic and subsequently so much more satisfying.
It also helps that American Beauty doesn't feel like a fantasy world. The story has plenty of bizarre moments, although none stray too far into the absurd, but you can believe that all of this is happening to families across America. From the small moments, like squabbles over a dinner table about the music that is playing through to larger moments like the homophobic beating of a son by his father. The film is a construct of lives we want to get a peak into to and as each one crashes together, their actions having a domino effect on another strand of the story, you can't help but be compelled by a film that doesn't have a "story" to necessarily tell.
The cast goes a long way to why this works so effectively. Spacey is great as the lead but is ably supported by Annette Bening as his put-upon but finally liberated wife, Thora Birch shows early promise as his misunderstood daughter while Mena Suvari gives depth to a character which could have been nothing more than a stereotypical, obnoxious teenager. Aside from Spacey, it is Chris Cooper as a traditional, bigoted Colonel living next door, who almost steals the film. His interactions with his intelligent, also misunderstood son, played by Wes Bentley, are some of the most interesting and also disturbing, adding to the idea that there is a darker element to the nice, suburban American families people strive to obtain.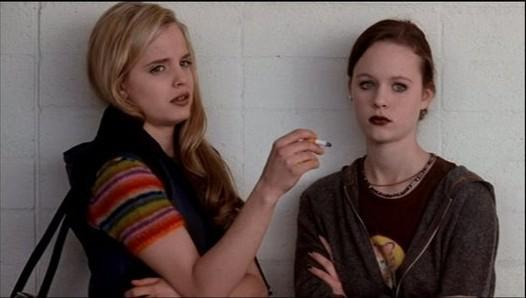 Although American Beauty does deal with some of the more mundane realities of life, there are some great, iconic imagery which has entered film and pop culture forever. The use of the rose (the American Beauty which is one meaning to the movie's title) in scenes regarding Suvari's Angela Hayes, manage to convey dream-like, obsessive delusion without falling into the trap of being ridiculously abstract. The scene of Suvari covered in rose petals on the ceiling of Burnham's roof as he fantasises is now movie-lore and has become ripe for parody and imitation.
All of this adds to how interesting the seemingly inconsequential lives of these "normal" suburban families are. We get a glimpse into their darker elements which may mirror our own or just showcase that even the lives of the most "perfect" families have their issues. As "normal" as these events may seem, it only adds to the shocking and violent end that adds a clear exclamation point to the movie's story.
Overall, American Beauty shines a light on the "normal" suburban life that is supposedly being led by people across America and how just bucking the trend and going your own way can lead to this world crumbling around you. Spacey is fantastic, as is his impressive supporting cast, who help create a film that has entered popular culture for all-time.
Rating – 5!
(1 – AWFUL, 2 – AVERAGE, 3 – GOOD, 4 – GREAT, 5! – MUST SEE)
As always get in touch below with a comment but also like our page on Facebook (Views from the Sofa) or follow us on Twitter – @viewsfromsofa