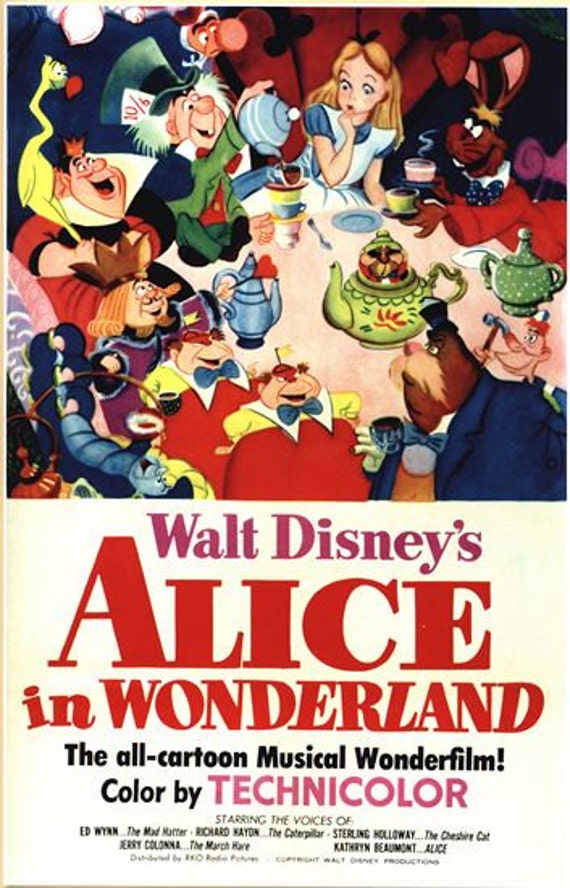 If you wanted a showcase of how amazing an animation studio Disney was, you should look no further than Alice in Wonderland. From the moment the movie starts, Disney lets loose with their animation, playing with space, shape and creating creatures that are both recognisable and all at once bizarre with a delight that will bring a smile.
Alice in Wonderland is the perfect story for this because of how much the story leaps from one location to another. Alice herself creates a great contrast to the rest of the Wonderland, the "normal" among the bizarre and within this film are some of Disney's most iconic characters. The Cheshire Cat who manages to be both creepy and delightful, the Mad Hatter who infuriates as much as entertains and the Queen of Hearts who is funny but terrifying at the same time. For the 1950s, this movie must have felt revolutionary.
Alice in Wonderland is also a change for Disney in the sense that it isn't an original story by the studio but neither is it a fairy tale. Lewis Carroll's novel is full of nonsense, as much as it contains wonder, and Disney sticks to this well but at times you left wondering what on earth is going on. This can also lead to moments where the movie begins to drag slightly, as Alice speaks to weird flowers or a scene with a Caterpillar blowing smoke-letters drags slightly too long.
The film may be viewed as a "classic" today but it doesn't seem to have that Disney magic that made them the powerhouse studio they would become. The characters are iconic but often get lost within the chaotic nonsense. There is also the huge travesty of no decent Disney songs either. It is an example of why, as you watch Alice in Wonderland, you can't help but feels it is lacking.
Overall, Alice in Wonderland is a great look at Disney's animation and the animators bring the classic tale to life with some timeless character design. The story has its moments and will delight many but it doesn't hold the Disney magic that makes it the number one animated studio today.
Rating – 2.5
(1 – Awful, 2 – Average, 3 – Good, 4 – Great, 5! – Must See)
As always get in touch below with a comment but also like our page on Facebook (Views from the Sofa) or follow us on Twitter – @viewsfromsofa