Locke is a bold and impressive movie. It is almost entirely in the confines of one car. You only see one person's face throughout the whole movie and the conversations are all over a Bluetooth car stereo as one man unravels his life over the course of an evening driving down the motorway.
The driver in question is Tom Hardy, who gives a powerhouse performance. Once you get past the very poorly conceived and downright terrible Welsh accent he has given his character, you get a man who is torn between living a happy life and doing the right thing. As the movie progresses, he makes decisions, has conversations and slowly tears his own life apart. It is painful but completely engrossing to watch.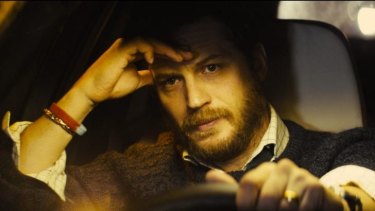 What makes the movie work even better is that the story and the events that drive Hardy's Locke are absolutely normal. The narrative manages to weave together many aspects of one eventful night but none of the events are extraordinary. A football match on TV, preparations for a huge project at work the next day, a trip to the hospital; all of this is staged very normally but the way the conversations go means you feel like you are eavesdropping and watching a life come apart. The realism helps the film work.
The voices on the other end of the phone have their own challenges but these are ably met. Although this was filmed in 2013, it has since become a who's who of impressive British talent and it makes for a fun game of "spot the voice." Hollywood mega-stars like Olivia Coleman and Tom Holland join the likes of Sherlock's Andrew Scott to build the picture of one terrible night.
It shouldn't work but the conversations, the small moments of breaking that Hardy allows his character, the monologues with his "Dad" who is imagined in the back-seat (but never seen), all make this a masterwork in single-handedly driving a film. Once the journey ends, you want to stay with the character but you have also seen enough to be satisfied and get a good look at who Locke is and what he is going to do.
Overall, Locke is a bold, well-executed original type of movie. Following one character on a car ride shouldn't work but the acting is superb, the writing a success and the story so perfectly normal but dramatic that you are compelled throughout.
Rating – 5!
(1 – Awful, 2 – Average, 3 – Good, 4 – Great, 5! – Must See)
As always get in touch below with a comment but also like our page on Facebook (Views from the Sofa) or follow us on Twitter – @viewsfromsofa