Some films are not necessarily about the story but instead deliver a showcase for an actor's talents. Ma Rainey's Black Bottom does this for not one but two key actors and you feel compelled to watch as the two of them deliver some career-high performances. It also helps that the story is very good too, for the most part.
The two central performances are Chadwick Boseman (in his last motion picture before his untimely death) and Viola Davis. Davis plays the Ma Rainey of the title, a blues singer who is recording an album in a recording studio with her hand-picked band. She is a diva, short-tempered and very difficult to work with and Davis is having the time of her life. Add to this some great vocals and impressive singing of many different songs (including notably the song from the title) and you get a character you can't look away from.
Boseman is the thorn in her side. Another diva but this time without Ma Rainey's credibility, he is a man who wants to go his own way, has illusions of grandeur and keeps butting heads with the front-woman of the band. One focus of the movie is watching Boseman's Levee Green go from relaxed saxophone player to crazed obsessive and is the most interesting parts.
There are plenty of other supporting characters who help flesh out the role, most notably the other members of the band who are all old-timers who have a lot of life-experience that Boseman's Green won't listen to. Once these characters, played by Glynn Turman, Colman Domingo and Michael Potts, start talking, they manage to go the full gambit of funny stories, sweet recollections and much darker tales too.
In fact, there is a dark edge through Ma Rainey's. Set in the 1920s, racism is never far away and the movie shows this subtly. This isn't a movie that places those themes at the centre of the story but it drives the narrative and decisions of the key characters.
It is very well written but you would expect this from a movie which was originally a stage play. This is also a factor which hinders the movie at points. It feels too much as a play and its a script full of long dialogue, sprawling stories and long scenes which slow down the pace and urgency of the movie. This would effect it even further, perhaps even effecting the overall engagement of the movie, if it wasn't for how impressive Davis and Boseman are, lighting up the screen for each of their scenes.
Overall, Ma Rainey's Black Bottom is a movie which showcases two fantastic performances. Davis and Boseman are at the top of their game here and their scenes sizzle as the two begin to clash. There are some great set-pieces and a decent story overall but at times it is hampered by the play roots it came from.
Rating – 4
(1 – Awful, 2 – Average, 3 – Good, 4 – Great, 5! – Must See)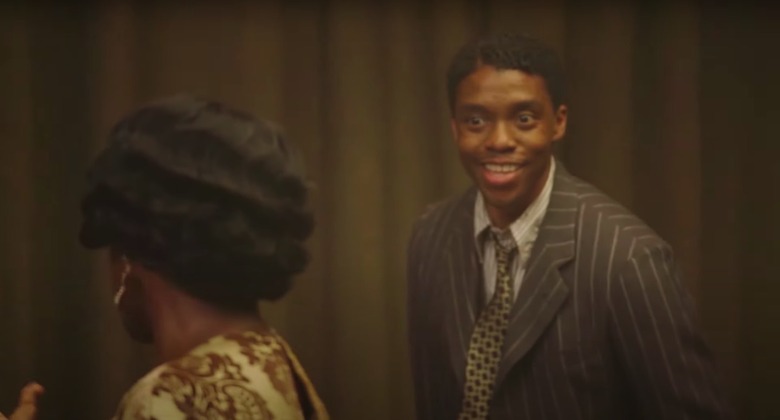 As always get in touch below with a comment but also like our page on Facebook (Distinct Chatter) or follow us on Twitter – @distinctchat