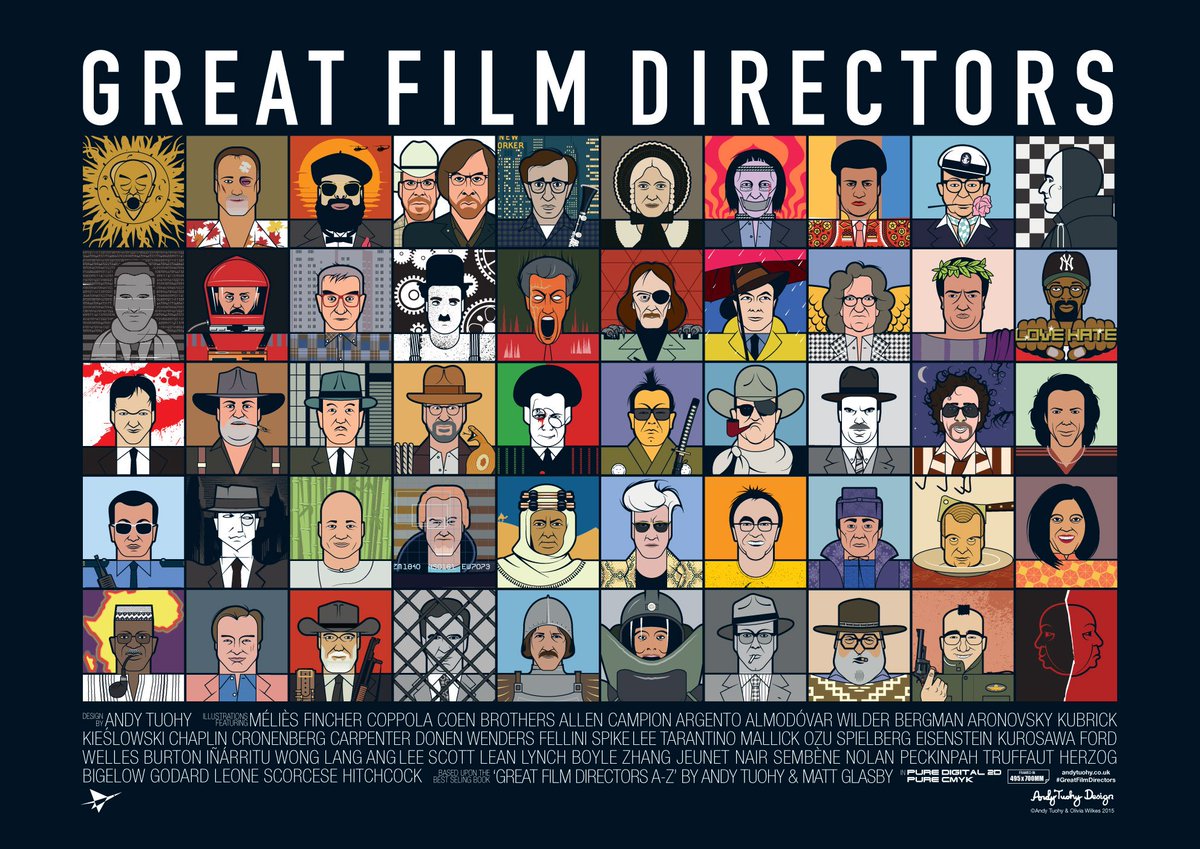 Amongst the movie blogging community there is a series known as "The Blindspot." This is when a movie fan actively searches out the movies they should have seen. The films that are regarded as classics or come highly recommended by everyone and anyone but that they haven't quite got round to seeing. I have loads of these and was always planning to do a blindspot series myself.
Something recently motivated me further and this was a Christmas present from my wife. My wife bought me the book "Great Film Directors A to Z" by Andy Touhy and Matt Glasby. Inside the book is a list of all the "Greatest Film Directors" alongside a list of five films to see (as well as interesting insights into their career). My wife realised that there loads of these "films to see" that were in her blindspot and I realised the same. Thus, The Great Film Directors Blindspot series was born.
Below is a list of directors and one of their films that either my Wife and I haven't seen or my Wife hasn't seen and I think she definitely should. None have been reviewed on the blog and many have passed me by completely.
The plan is to make our way through the list this year (and definitely into next, the list is huge!) I thought I'd share this with you and have you shocked and aghast at the films I should have but haven't seen yet.
The list is as follows;
Woody Allen – Manhatten (1979)
Pedro Almodovat – The Skin I Live In (2011)
Darlo Argento – The Bird with the Crystal Plumage (1970)
Darren Aronofsky – PI (1998)
Ingmar Bergman – The Virgin Springs (1960)
Kathryn Bigelow – Zero Dark Thirty (2012)
Danny Boyle – Slumdog Millionaire (2008)
Tim Burton – Ed Wood (1994)
Jane Campion – The Piano (1993)
John Carpenter – The Thing (1982)
Charlie Chaplin – The Great Dictator (1940)
Joel and Ethan Coen – Miller's Crossing (1990)
Francis Ford Coppola – The Conversation (1974)
David Cronenberg – The Fly (1986)
Stanley Donen – Singin' in the Rain (1952)
Sergei Eisenstein – Battleship Potemkin (1925)
Federico Fellini – La Dolce Vita (1960)
David Fincher – The Game (1997)
John Ford – The Searchers (1956)
Jean-Luc Goddard – Masculine, Feminine (1966)
Werner Herzog – Nosferatu the Vampyre (1979)
Alfred Hitchcock – Rear Window (1954)
Alejandro Gonzalez Inarritu – Babel (2006)
Jean-Pierre Jeuner – Amelie (2001)
Krzyszztof Kieslowski – A Short Film about Killing (1988)
Stanley Kubrick – Dr Strangelove (1964)
Akira Kurosawa – Seven Samurai (1954)
Fritz Lang – Metropolis (1927)
David Lean – Brief Encounter (1945)
Ang Lee – Crouching Tiger, Hidden Dragon (2000)
Spike Lee – Malcolm X (1992)
Sergio Leone – Once Upon a Time in America (1984)
David Lynch – The Elephant Man (1980)
Terence Malick – Badlands (1973)
Georges Melies – A Trip to the Moon (1902)
Mira Nair – The Reluctant Fundamentalist (2012)
Christopher Nolan – Following (1998)
Yasujiro Ozu – Late Autumn (1960)
Sam Peckinpah – The Wild Bunch (1969)
Michael Powell/Emeric Pressburger – The Red Shoes (1948)
Saryajit Ray – Pather Panchali (1955)
Martin Scorcese – The Last Temptation of Christ (1988)
Ridley Scott – Blade Runner (1982)
Dusmane Sembene – Black Girl (1966)
Steven Spielberg – Lincoln (2012)
Quentin Tarantino – Jackie Brown (1997)
Francois Truffaur – Fahrenheit 451 (1966)
Orson Welles – Citizen Kane (1941)
Win Wenders – The American Friend (1977)
Wong Kar-Wai – The Grandmaster (2013)
Zhang Yimou – House of Flying Daggers (2004)
Overall, there you have it! The list is long and extensive with some films I've heard of, lots I haven't, some directors I know, a lot I don't. This should widen my film knowledge even more and hopefully cure that pesky blindspot! As always, let me know if you think the choices are wrong or even if the list is missing a pretty "Great Director."