The best sports movies make you care about the character, and even the sport, regardless of whether you are familiar with it or not. The debate over whether American Wrestling is a sport is one for another time but it works effectively as the backdrop to a redemption story of sorts and one that sees a fantastic performance from Mickey Rourke.
Rourke gives the performance of his career here. He fits the role perfectly, embodying the grizzled, broken and past-it body of career wrestler Randy "The Ram" Robinson. Rourke clearly got himself in shape for the role but the physicality doesn't just happen off-screen in the preparation. Rourke puts his body through hell in the film and one scene involving wrestling with weapons shows exactly how brutal this world can be.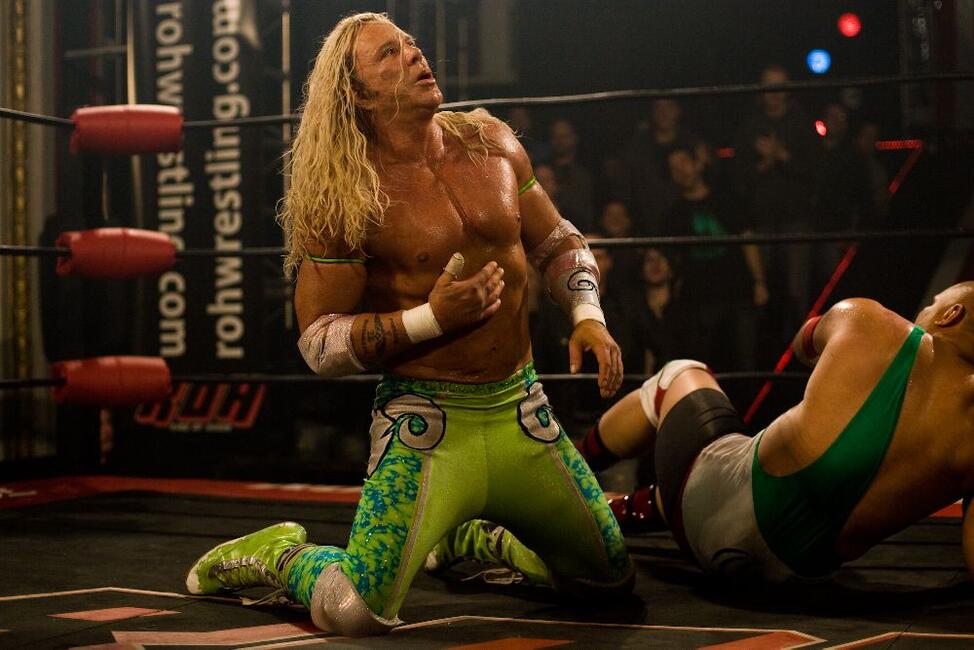 The Wrestler doesn't glamorise American Wrestling. This isn't the WWE that Robinson is wrestling but rather school halls or leisure centres. This is showing a profession where it is a struggle to succeed but also difficult to let this world go. Robinson thrives on the plaudits and what we see, with Rourke giving it his all, is how detrimental to your life this kind of profession can be.
For any wrestling fan, there is a great look at the background of the grass-roots side of the profession. The locker room, the sorting the "card" and how matches are planned and called are all touched upon here and although I'm no expert, the attention to detail feels fairly accurate.
This film isn't just about the wrestling though. Rourke's Robinson is a disaster in his personal life too. Telling moments with his estranged daughter, a sympathetic stripper or even his supermarket-job boss all show a man who struggles with the social side of things. Moments will make you cringe but on the flip-side of this, make you overjoyed when aspects of his life start to take an upward turn.
This isn't necessarily a story of redemption and a person finding hope later in their life. It is a realistic take on how one man can be his own worst enemy and due to that, the story takes turns you may not necessarily see. This makes it a perfect watch as it doesn't fall into any of the predictable traps and even has a deliciously ambiguous ending.
Overall, The Wrestler is a career best performance by Mickey Rourke in a film which uses American Wrestling as a gateway to tell the tale of how redemption could work if you allow it. It has great support, a very gritty and realistic tone and is compelling throughout.
Rating – 4
(1 – Awful, 2 – Average, 3 – Good, 4 – Great, 5! – Must See)