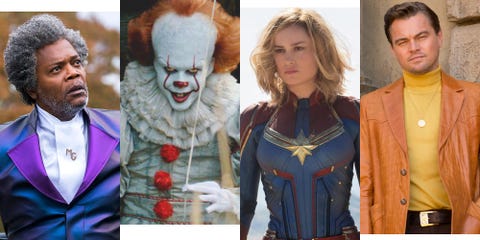 Most movie bloggers make a list of the films they want to see at this time of year but my list is slightly different. I don't get to go to the cinema as frequently as I once did so I have to settle for perhaps once a month at the most (maybe a few times more if I'm willing to go late late at night).
With that in mind I have a month by month guide to the movie or movies I will be trying to see at the cinema this year. I have picked a definite for each month followed by some honourable mentions that I will try to see if I have the time (and money).
January: Glass
I have been waiting anxiously for this movie ever since the final scene twist at the end of Split. The trailers have not disappointed and this could be the best sleeper superhero movie of the year, bringing something else to an already fairly crowded genre.
February: How to Train Your Dragon: The Hidden World
Not necessarily a "Must-See" but I was struggling for movies in February. I really enjoyed the others and this is a franchise which surprises and charms, with an ever increasing quality to the movies so far.
March: Captain Marvel
After Infinity War and that post-credit tease, you can't help but be excited for the prospect of the person Nick Fury calls in a crisis. Although the links to Infinity War won't be until a possible mid or post-credit scene, it doesn't mean that this won't be a cool film that delivers plenty of typically Marvel A-Grade action.
April: Avengers: Endgame
There could be only one! The concluding chapter the best movie of last year. This could tie-up the best movie of the year slot early or could be the biggest disappointment yet but either way I can't wait to see what it has in store.
Honourable mentions: Shazam! Hellboy
May: Aladdin
Aladdin is my favourite Disney movie. It has everything from great songs, to an amazing genie through to an action-packed finale. This is the film to bring to the live-action big-screen, even if Will Smith's genie is looking slightly disappointing in early pictures.
Honourable Mentions: Godzilla: King of Monsters, Pokemon: Detective Pikachu
June: Toy Story 4
I have often cited Toy Story as the perfect trilogy. The third Toy Story ended the saga so well so I will be going into this movie with trepidation but of all the franchises that Pixar have, they treat Buzz, Woody and the gang with the most care. Another potential disappointment.
Honourable Mentions: Child's Play, Men in Black International, X-Men Dark Pheonix, Secret Life of Pets 2
July: Spider-Man: Far From Home
Tom Holland brought a fantastic version of Spider-Man to the big screen in Homecoming and held his own in the packed Infinity War so I welcome a return to his own solo adventure. The first Marvel movie after Infinity War could also lead the franchise in new directions.
Honourable Mentions: The Lion King
August: Hobbs and Shaw
August wasn't the strongest month but long time followers of the site know that I can't resist a movie starring Dwayne Johnson. He is the strongest part of the Fast and Furious franchise so a spin-off pairing him and Jason Statham's Shaw is a winner for me.
Honourable mentions: New Mutants
September: IT: Chapter 2
The first IT film was a surprise for one of the best movies of 2017 and revisiting the older characters with the return of Pennywise should be interesting and hopefully as scary and freaky as the first film.
Honourable Mentions: Downton Abbey the Movie
October: Joker
Still unsure how to feel about this one but early test footage of Joaquin Pheonix as Joker shows some promise. This could be the best version of Batman's greatest villain since Heath Ledger.
Honourable Mentions: Zombieland too
November: Sonic The Hedgehog
This one appealed purely to my 90s upbringing, even if video-game movie are usually awful. I haven't seen enough to make early judgements on quality, just a couple of dodgy posters, but I hold out hopes of at least a fun animated movies.
December: Star Wars IX
Since Star Wars returned with a new trilogy they have owned December. The Last Jedi wasn't exactly the film I hoped it would be but that doesn't mean I don't get completely and utterly excited for a new instalment in the saga, particularly as links to the older movies slowly start to fade.
Honourable Mentions: Jumanji: Welcome to the Jungle 2
Overall, a pretty eclectic mix of sci-fi, superheroes, animated heroes and returning stars. Hopefully I'll see all of them (and the honourable mentions too). Let me know what your list is or any thoughts on the films I've chosen.