There is a fine balancing act that every large, explosive summer blockbuster has to traverse between silly and fun. Fun is a paper thin plot, funny moments and dialogue, great chemistry and some very cool action sequences. Silly means that moments are too ridiculous, throw the rule-book too far out of the window and are almost too cringe-worthy to watch. Hobbs & Shaw is, for the most part, tons and tons of fun but does unfortunately stray a little too far into silly with it's final act.
In a time for Hollywood where Universe building and spin-offs seem certain money-making machines, taking Dwayne Johnson's Hobbs and Jason Statham's Shaw from the more recent Fast & Furious movies was a masterstroke. They had some of the best lines, could clearly handle the action and together make the screen sizzle with chemistry. The moments where Johnson and Statham are together, verbally battering each other with dialogue that is both hilarious and very close to the bone, are the highlights of the movie.
It almost doesn't matter why the two are brought together as long as they are and they get to do some cool action stuff. The story here is suitably paper-thin and ridiculous but without any unnecessary over-complicated plot twists which try to make the film more than it is. A virus which will wipe out mankind is transferred into Shaw's sister, Hattie, played by Vanessa Kirby, who is then on the run from the main villain, Idris Elba's "Black Superman" Brixton.
The plot in this kind of movie serves one purpose, to get us from one cool moment to another and it does it with ease. This is a film of action, violence, car chases and explosions and it relishes in the fact. Hollywood has almost forgotten how to make this kind of action movie but Hobbs and Shaw demonstrate how it is done with aplomb, aided well by arguably the biggest action star of the present day in Johnson.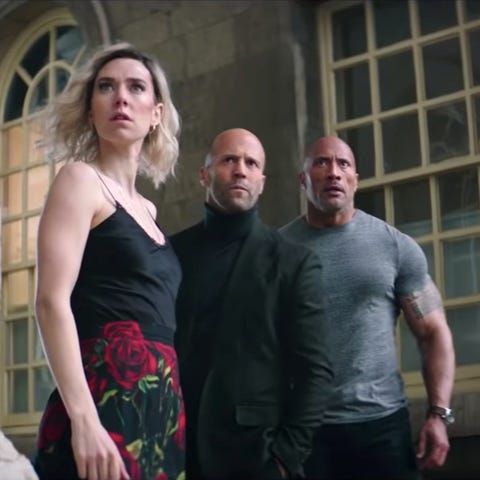 Not that Johnson and Statham get all the glory. Kirby holds her own fantastically and is clearly the third action star here, being far more than just the token woman in the movie (which is more than can be said for Eiza Gonzalez's Madame M who is sorely wasted). Elba is also a powerhouse villain. The plot explains how he can go toe-to-toe with Johnson and Statham and the dialogue he delivers is the corniest of the whole movie but if Elba is doing this purely for a payday, he is doing it with all the professionalism you'd expect from the heavyweight actor. His interactions with the main two protagonists are great and you want him to get his comeuppance.
This is an action film first and foremost though and it delivers here in spades. You are never more than ten minutes from the next major set-piece and each outdoes the one before. From impromptu abseiling through to dispatching corridors of henchmen, each sequence does well to highlight the differences between the two heroes while also extenuating their strengths. It is great to see two very different approaches to action and combat work so well on-screen and this unlikely partnership has plenty of life in it.
The film also remembers it's Fast & Furious roots. Vehicles, road-chaos and gravity/physics defying moments in cars are still all present and correct, even down to the now staple "engine-view" once some magic button is pressed on a dashboard.
All of this delivers the fun summer blockbuster people crave at this time of year but it when the action moves to the island of Samoa that the film loses it's way. Family has always been the watch-word of the Fast & Furious franchise but here it is emphasised far too heavily. It is also where the action takes it's step too far into the "silly" area, with moments getting just slightly too far-fetched in a film which had tread that line so well up to that point. A minor issue but one that loses the film half a mark.
As for the Fast & Furious franchise, it is in safe hands if this is where the saga starts to head. There is plenty of scope of development here, from a mysterious villain pulling the strings, some great cameos who will clearly be more prominent in future movie and best of all two characters you want to see on the screen together more and more. They will return for the newest Fast & Furious movie (with Kirby's Hattie in tow I'm sure) but I'd much rather see them in their own franchise to be honest.
Overall, Hobbs and Shaw show how great a well-made, fun summer blockbuster can be. It has everything from two great leads, a fantastic villain and some amazing action sequences. A finale taking a silly step too far hampers it slightly but otherwise this is a franchise starter which could rival the series it was spun-off from.
Rating – 4.5
(1 – Awful, 2 – Average, 3 – Good, 4 – Great, 5! – Must See)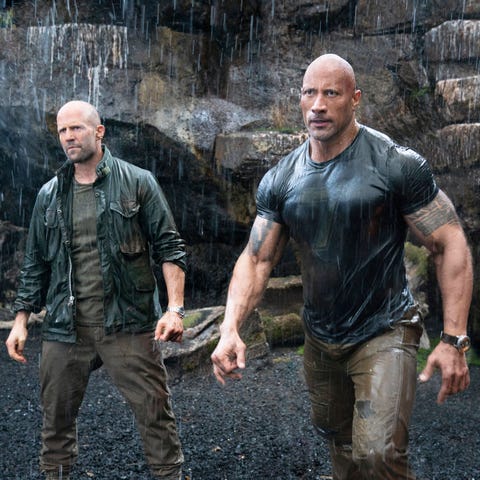 As always get in touch below with a comment but also like our page on Facebook (Views from the Sofa) or follow us on Twitter – @viewsfromsofa