Empire Records is a film set in a particular type of small business where just existing is enough and being in a constant state of chaos is encouraged rather than punished. It is also one of those places where the owner, a person who wants the business to make money, is the bad guy for this very reason. The main problem with Empire Records seems to be I'm too old.
This is clearly a film that appealed to the teenage dreamers whose lives revolved around music and the local music store. A place where they could play what they wanted, do what they wanted, trash the place, occasionally serve customers and generally slack their way through employment. It is a cult film because it shows an idealised version of a life many teenagers wish they could live.
It also means we get a wide range of cookie-cutter characters. The "girl next door" (Liv Tyler), the "promiscuous girl" (Renee Zellweger), the "bad girl" (Robin Tunney), the "philosophical rebel" (Rory Cochrane) and the "oh-so handsome obtainable heart-throb" (Johnny Whitworth). Add the occasional other teenager who drops in and out as they please and as the story requires alongside the "long-suffering but good-natured manager" played by Anthony LaPaglia. There are enough characters that you may even find someone you can recognise and perhaps even associate with and as the stereotypes begin to interact, the usual plot points begin to emerge.
Considering this is one day in the life of Empire Records, there is plenty of story to emerge. Too much at times. The film doesn't seem to have a coherent plot so instead plays out as a random series of events, becoming more bizarre or alternatively predictable or just plain silly. At times you wonder what the point of it all is and what this film is actually trying to achieve.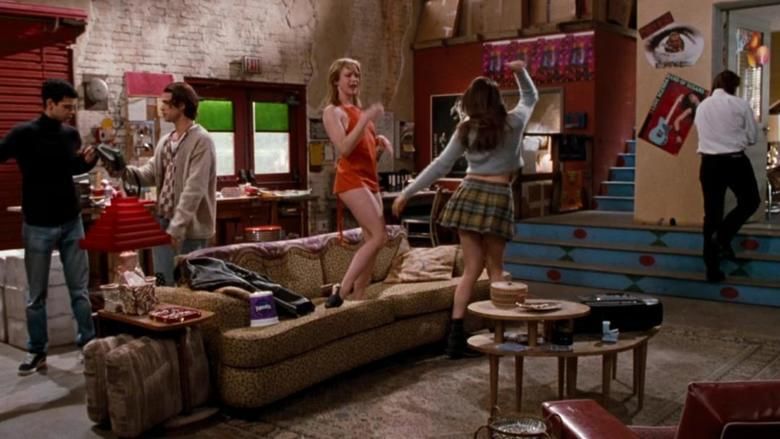 For a film set in a record store, you'd expect a killer soundtrack and such things are generally subjective but there are some recognisable classics featured here. The music is used to good effect and varies well enough to keep that aspect entertaining, even if the heavy-metal moments jar slightly.
It is a film with some sweet moments too. Alongside the shoplifting and hair-shaving are some points which touch upon suicide or how you want other people to see you. These are never realised as fully as they could be and there could have been much more care and attention paid to these moments but they do have a place and are handled fairly effectively.
Overall, Empire Records feels like a stereotypical teenage comedy that you unfortunately (perhaps) grow-out of. No consequences, sticking it to "the man" and being able to live in chaos means the film has a scatter-gun approach which is less than effective. A good soundtrack and some key, charming moments manage to save it slightly.
Rating – 3
(1 – Awful, 2 – Average, 3 – Good, 4 – Great, 5! – Must See)
As always get in touch below with a comment but also like our page on Facebook (Views from the Sofa) or follow us on Twitter – @viewsfromsofa