As film casts go, you can't ask for much better the The Paperboy. This is powerhouse talent, from the likes of Matthew McConaughey, Nicole Kidman, John Cusack and Zac Efron. For some of those actors, this is a routine performance but for others it offers a career highlight.
The Paperboy is first and foremost a mystery. McConaughey is returning home, alongside his journalist writing partner, played by David Oyelowo, to investigate the potential wrongful arrest of a death row inmate for murder of the local sheriff. What unfolds is a tale about injustice, race relations, mislaid affection and eventually a thriller with a shocking finale.
The strength of The Paperboy is the interchange between the key characters. McConaughey's Ward returns a hero to his younger brother but tensions are evident with his Dad and new step-mother. Nicole Kidman's "White-Trash" Charlotte becomes a key part of the investigation and the object of Efron's Jack's affections. The actor to steal the whole movie however is John Cusack.
Cusack plays the "killer" placed on death-row, who via letters and little actual contact, is engaged to Kidman's Charlotte. This is one of Cusack's stand-out performances and he brings a slimy, creepy but compelling character to the screen. His interactions with McConaughey's Ward are games of cat-and-mouse, while Kidman's Charlotte is used as a pawn for information between the two.
Kidman also gives a fantastic performance and loses herself in a role that feels like a departure from the norm for her. She adds a great layer to Charlotte and realism, making a character that could have been played as stupid and ignorant into someone much more sympathetic and likeable. Unfortunately, its Kidman's character who also gets the weirdest moments of the movie.
The Paperboy can be very bizarre in places. There is a moment involving a jellyfish and urine which is far more graphic than it need-be but this is trumped by a very uncomfortable scene in the prison where Cusack's Hillary and Kidman's Charlotte make their affection known intimately. These moments are jarring considering other elements of the movie are brilliantly unpredictable and it leads to a thrilling conclusion in the third part of the film.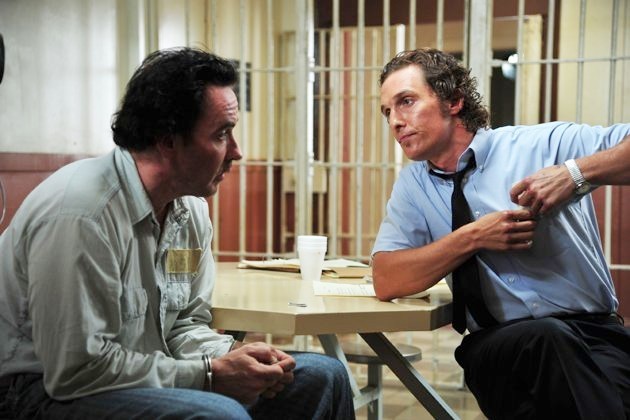 Unfortunately, there is a need for resolution of the characters stories and this leaves the actual ending of the movie feeling quite flat. After a triumphant, thrilling set-piece, the actual outcome is presented so matter-of-fact that it doesn't satisfy as you feel it should.
Overall, The Paperboy delivers some great performances from an impressive cast, Kidman and Cusack giving particularly, career high performances themselves. The central mystery is a good one and there are some great scenes and a thrilling conclusion. Unfortunately, these are marred slightly by some bizarre moments which are more uncomfortable than compelling and a conclusion to the whole movie which falls slightly flat.
Rating – 4
(1 – Awful, 2 – Average, 3 – Good, 4 – Great, 5! – Must See)
As always get in touch below with a comment but also like our page on Facebook (Distinct Chatter) or follow us on Twitter – @distinctchat