If you have an intriguing and compelling concept for a movie, it is still very important that you know how to end it. Vivarium is intense and incredible for the first two-thirds of its runtime but is let down by a very unsatisfying ending which is infuriating considering how invested you will be for most of the movie.
The film begins with Jesse Eisenburg and Imogen Poots as a young couple trying to find their first house together. They find themselves looking around a generic, cold house in a generic cold estate. Its only when they try to leave the estate, consisting of the same houses over and over, that they discover they are trapped. This is unnerving in itself and the first moments where the couple try to escape make for a great, low-fi horror movie.
This is amped-up even further when a child is delivered mysteriously to their doorstep, with a simple instruction to raise it and then they can leave. As is to be expected, the child is not "typical" of a human child and with a strange voice, persistent screams and and a weird tv show it insists on watching, the being begins to drive the cracks through the couple's relationship.
This dynamic is what makes the movie so successful. Both Poots and Eisenburg are fantastic, treating the situation they find themselves in with two very different tactics. Poots' Gemma tries to care and sympathise with her child while Eisenburg's Tom is determined to escape and fixates on digging a hole to freedom. In fact, Eisienburg does well to play against type here. Not the calm, straight-talking geek we may usually associate him with but someone much colder and harsher here, it offers a different side to the actor.
As the film progresses we see their characters and relationships change and it is fascinating. It will make you wonder what you would do in the same situation and how you would cope with the terror, dread and horror.
This is exactly what the film is. There are so many mysterious, strange moments and little hints at what could be happening that you are constantly trying to figure it all out. You are also trapped with the cast as well, as both Senan Jennings and Eanna Hardwicke bring the child to life through the respective young and older aspects of his life, and do a brilliant job of making the character as creepy as possible while also slightly sympathetic.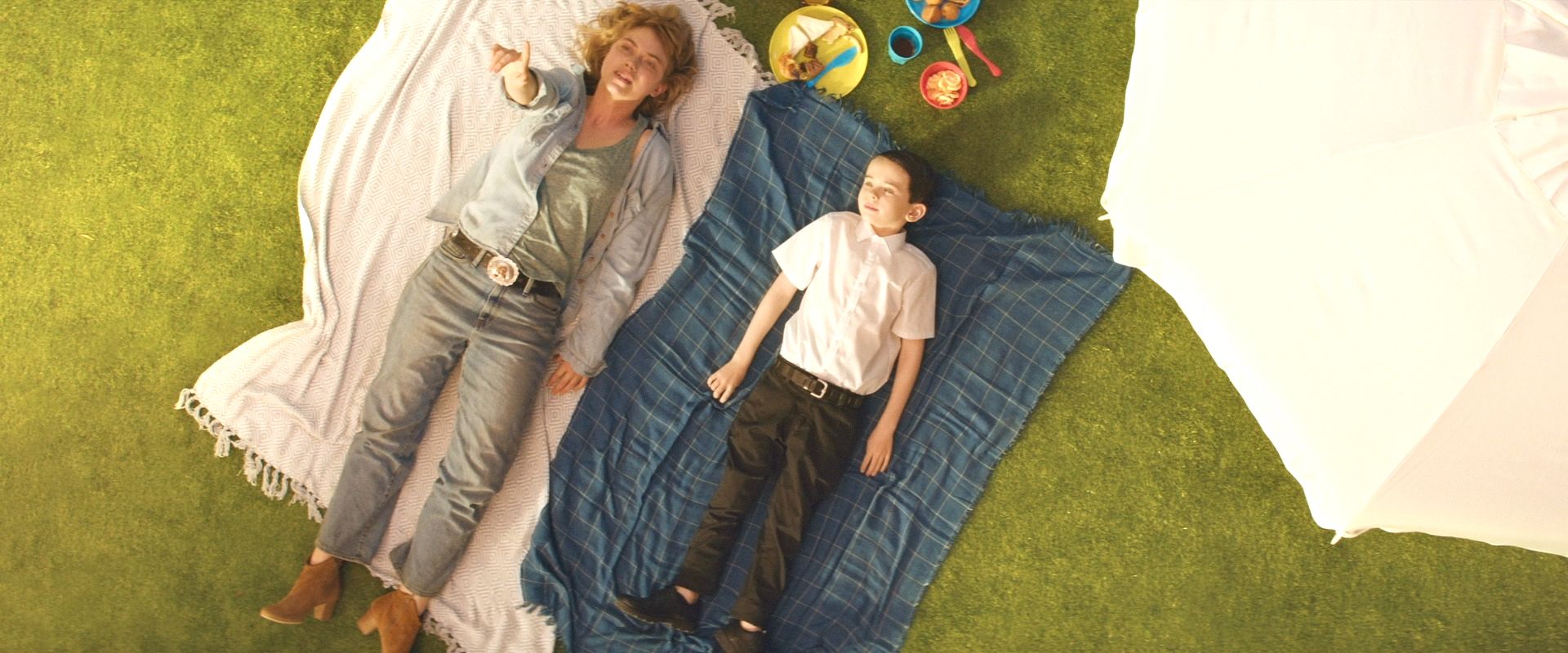 It is just a shame then that the film lacks that satisfying ending. It almost feels like the concept and build to the movie was too good to really ever do it justice but what we are given doesn't do a close enough job to leave you feeling satisfied. Its not even that it is stale or cold as an ending, or infuriatingly ambiguous. At worse, it is strange and almost feels like it is trying to be more clever than it needs to be.
Overall, Vivarium is an effective horror movie with a great central concept. Both Eisneburg and Poots are fantastic but the work of Jennings and Hardwicke pulling double duty as the boy/man terrorising their lives steals the film. It is just a shame that it is let down by an ending which lacks the satisfying conclusion this movie needs.
Rating – 4
(1 – Awful, 2 – Average, 3 – Good, 4 – Great, 5! – Must See)
As always get in touch below with a comment but also like our page on Facebook (Distinct Chatter) or follow us on Twitter – @distinctchat