Its a fantastic "What if" scenario that One Night in Miami brings to life. What if after Cassius Clay defeated Sonny Liston, the boxer met and spent the night with political activist Malcolm X, footballer Jim Brown and singer Sam Cooke. The interesting aspect is that this in fact did happen, what One Night in Miami does is imagines what the conversations and interactions were on that legendary night.
As you can imagine, this is not a film about four successful and famous individuals having a party. This is a film charged with politics, racial tension and the conversation around how to make a difference when you are a member of a very clearly oppressed minority. The fact that these four men all want to approach that differently is what makes the movie so compelling and when these fractious conversations begin, its fantastic to watch.
That is in no small part because of the cast that have brought these iconic people to the big screen. Each respective actor plays their role perfectly, from Eli Goree bringing the arrogance and swagger of Clay to the screen, in stark contrast to the calm and soft spoken Kingsley Ben-Adir playing Malcolm X. Although they feel slightly in the background, Aldis Hodge is a stoic but intimidating Brown while Leslie Odom Jr brings a swagger of his own to Sam Cooke. These very clear, differing personalities is also where the strength of the film lies, from Malcolm under-playing Cooke's impact on music or Clay questioning Brown's choices of film role as he moves to Hollywood.
The film is interesting throughout but is built around these key scenes. Usually between two of the four characters, they bring an intensity, fragility and foreboding as the characters reflect on events that are yet to occur for them but we know will make history. It is cleverly written in that respect but this is no surprise as the film is based on a theatre production.
The fact that the film has its roots in a play is also a problem for the movie. Its difficult to get away from the feeling that this is a movie set in one location, written for characters who find ways of walking in and out of the small motel apartment. The roots of the film's story also means it lacks any key, next level dramatic moments. This is a film which never seems to get out of third gear and really demonstrate something special which is shame because its clear that these actors could bring more to the movie with their versions of these iconic people.
Overall, One Night in Miami is a great story which demonstrates the power, influence and importance of four key individuals in American Civil Rights history. It has well-written scenes which are acted superbly by the people bringing their respective characters to life. It never quite gets away from its play roots though and this means it misses that next level of drama the film and story really needs.
Rating – 3.5
(1 – Awful, 2 – Average, 3 – Good, 4 – Great, 5! – Must See)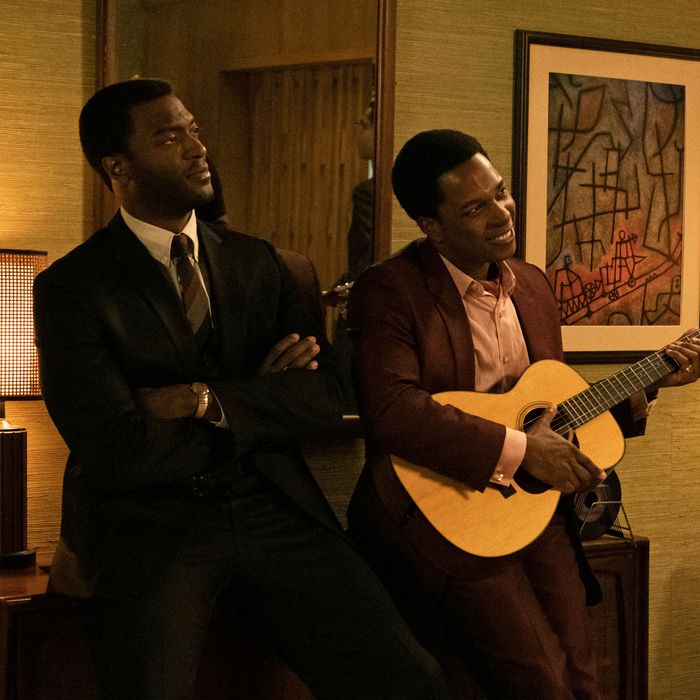 As always get in touch below with a comment but also like our page on Facebook (Distinct Chatter) or follow us on Twitter – @distinctchat