The best documentaries create interest from what is seemingly mundane. What begins as a simple daily dive into freezing water becomes a story of friendship, nature and life itself, as well as a comment on the bond between humans and animals.
My Octopus Teacher is the story of how Craig Foster made friends with an octopus. Perfectly told, Foster begins from the moment he discovered the octopus adopting a bizarre defence mechanism and then tracked the creature. Visiting everyday, the octopus got to know and trust Foster, which gave Foster a unique view and insight into this creatures habits, habitat and the life of this animal generally.
What Foster then captures is a fascinating and dramatic story. You wouldn't imagine the drama and investment in this friendship when the film first begins but as you get to know the creature, you begin to care as much as Foster does. This means that you are on the edge of your seat when predators arrive, smile when the octopus plays and feel the heartache when the story reaches a sad but ultimately very natural conclusion.
All of this is shot beautifully and all credit to Foster for capturing some amazing scenes. The camera manages to get it all, from POV shots through to the last moments. Seeing the octopus wrapped around Foster's hand or the first-hand defence mechanism she has developed, is all on-camera and as close as anything you have come to expect from David Attenborough. Add to this the beautiful scenery and fantastic environment under the water generally and you have an impressive nature documentary.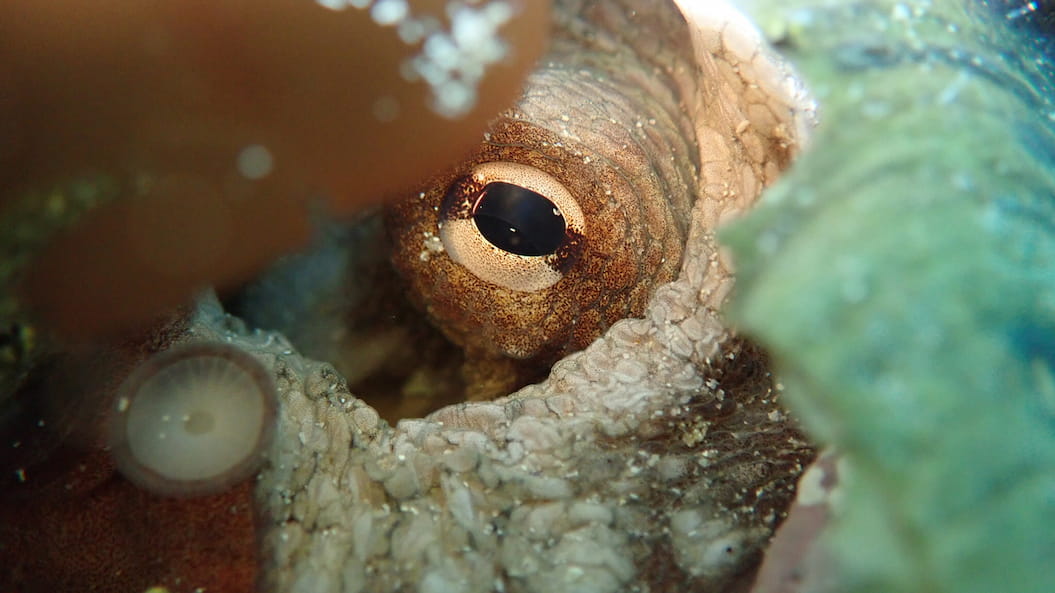 The problem with My Octopus Teacher is that at times it focuses too much on the human element. Ultimately, this is the story of what Foster learns from his friendship with the octopus and as much as some of this is interesting, too much time is spent monologuing about himself when the titular animal is vastly more engaging.
Overall, My Octopus Teacher is an impressive and unique nature documentary. It makes you invest in one animal and its friendship with the documentarian. It captures key aspects of the animal's life, from survival to mating and beyond, with gripping drama. Look past the more self-indulgent aspects and you will come to love that octopus too.
Rating – 4
(1 – Awful, 2 – Average, 3 – Good, 4 – Great, 5! – Must See)
As always get in touch below with a comment but also like our page on Facebook (Distinct Chatter) or follow us on Twitter – @distinctchat