It will never cease to amaze how Pixar takes a simple idea and builds a fascinating world around it. In the case of Onward, its the idea that technology has altered the typically magical medieval world we are familiar with from the fantasy genre and we now get a world of feral unicorns, chain restaurant owning Manticore's and van driving elves. This perfect mix of fantasy and modern means Pixar has a world full of potential stories.
Luckily, the story they choose to tell in Onward is a great one. On his birthday, Tom Holland's Ian Lightfoot is given a special gift from his deceased Father, the chance, using magic, to be reunited for one day. As with any good movie plot, this goes awry and now Ian and his inept but loveable brother Barley, must find a way to complete the spell that has left their Dad as just a pair of legs. So far, so perfectly Pixar and this is a return to form for the studio that isn't necessarily the guaranteed quality animated movie factory it once was.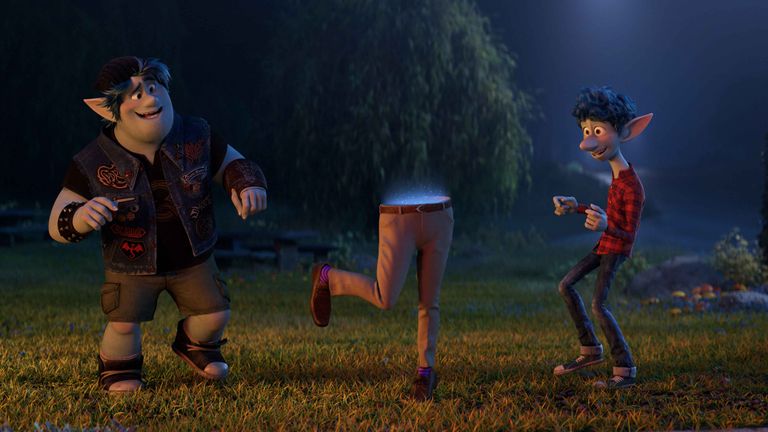 As with the best of Pixar's movies, it begins with the characters and both Ian and Barley are likeable, charming and best of all believable. This is a strained relationship where younger Ian is embarrassed by his goofy older brother but as with the best of the Pixar movies, the buddy element begins to give way to something truly heartfelt and special. Helping support this central relationship is some great characters including our heroes' Mum played by Julia Louis Dreyfuss, John Ratzenberger returning to Pixar as a Centaur Cop and Octavia Spencer as the aforementioned Manticore. It is an impressive cast and although Pixar can now attract the best stars, none of them give an average performance and each deliver for their character.
Its a testament to how well realised the animation is that the Dad's legs are as emotive and as important a character as the brothers are. You completely understand what the Dad is trying to communicate and some of the most effective moments are subtle because they need to be but work so much better because of this.
With the characters established, Pixar have fun building the world around them. The mix of modern and magic makes for so many great moments, turning the fantasy genre on its head and delivering some very funny scenes. There is the usual background puns and clever sight gags but for anyone who is even slightly in tune with the fantasy genre, Pixar manage to give little classic nods or turn convention on its head to great effect.
So this means that Onward becomes a classic fantasy quest but one in which our fantasy heroes can use vans, mobile phones and dress like teenagers. To its credit, the quest builds well and manages to take you down a path in which you believe you can see a very clear ending. This is why the finale will surprise many and the film doesn't end the way you think it would but instead does something much more satisfying and much more fitting to the tone, tenderness and characters Onward has built.
Overall, Onward is Pixar at its best. It is a clever movie, with a great central idea that is full of potential. The characters Pixar place in this world are interesting and you want to them on their journey. Onwards is both funny and heartfelt and is on-par with the best of Pixar's previous films.
Rating – 5!
(1 – Awful, 2 – Average, 3 – Good, 4 – Great, 5! – Must See)
As always get in touch below with a comment but also like our page on Facebook (Distinct Chatter) or follow us on Twitter – @distinctchat