If the words "A True Story" were not so blatantly featured on this movie, you would dismiss the story as absurd. The initial idea that a boy would go missing and then the police would present the missing child's Mother with another boy and try to convince her that this was her son seems ridiculous but the real magic of The Changeling is that this is the very beginning of a very interesting, intriguing and unexpected tale.
To it's credit, The Changeling is three movies in one. The first film is the tale of a desperate woman, trying to get her son back despite the authorities fighting her every move. The second film is a crime story, one that is dark and disturbing and unfortunately linked with the first tale and then you have the final story, the one of corruption and the quest for justice. All three are integral to the movie's success and presented well, never being anything less than engaging.
This is down to the work of both Angelina Jolie and director Clint Eastwood. Angelina Jolie plays the main character Christine Collins very well and is challenged with a very emotional, physical and desperate performance. It is one Jolie performs well and she is the perfect choice to shoulder such a heavyweight story.
Eastwood's direction keeps the film moving at pace. It is a story of many layers and could have been messy but Eastwood intersects the different aspects well and delivers a film that will have you on the edge of your seat as facts, information and events slowly unfold and become discovered.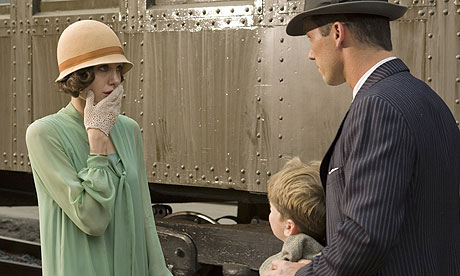 It is this slow uncovering of key moments which will have you angry, over-joyed and ultimately emotionally involved in the Mother's tale. You will also find yourself questioning the "true story" claim as her story becomes more absurd and the story which develops gets darker and more impactful with every revelation.
There is a lot of the story to cover though. It has a long runtime and you would be forgiven for thinking the film slowly limps to it's end, almost prolonging the resolution of the tale as years pass in minutes. It will also infuriate many because, as with any true story, it is unresolved and the ending slightly conspicuous but with a tale as strange as this one, that would always be the case.
Overall, The Changeling takes a supernatural title and as the film's events unfold, you may question the "true story" claims that the film makes. It is the fact that this is a true event which makes it so compelling and the different intertwining aspects build to an interesting and astonishing climax. Many will want to know more and search for answers while others will relish in an entertaining movie and great work from both Angelina Jolie and director Clint Eastwood.
Rating – 4.5
(1 – Awful, 2 – Average, 3 – Good, 4 – Great, 5! – Must See)