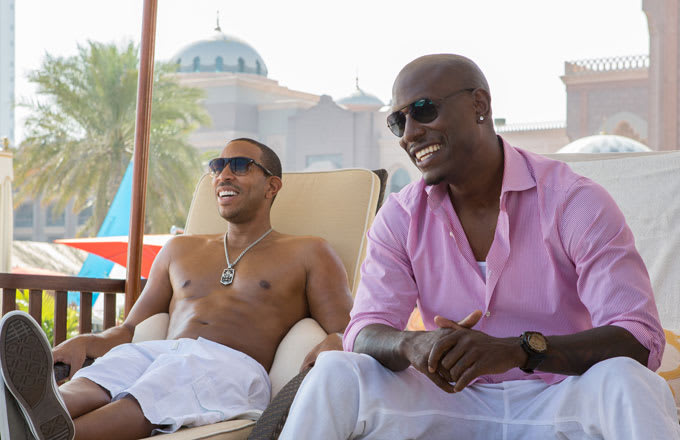 3 of the Best vs 3 of the Worst is exactly what it sounds like – 3 of the best examples of either an actor, film series, genre, etc. versus 3 of the worst. It's also an opportunity for you to have your say on my choices and whether you would have placed something ahead of my best or my worst.
It wouldn't be Fast and the Furious month without a look as rappers turned actors. From Ja Rule in the first movie through to the continued appearance of both Tyrese and Ludacris in the newer instalments: rappers have been synonymous with the fast car franchise. These aren't the only rappers who have tried to break into Hollywood and while some did a great job and actually surpassed their original career: others should stick to spitting bars rather than spitting Shakespeare.
3 of the Best
3. Ice Cube
This is the inclusion on the list that manages to toe the narrow line between both acting and rapping. Ice Cube has been acting for a long time and has managed to balance both careers successfully. He is taken very seriously as a rapper, from NWA through to his acclaimed solo albums and also manages to be a good action and comedy star, with the Jump Street franchise being a highlight. He even shows some dramatic flare in his earliest film; Boyz n the Hood.
2. Mark Wahlberg
What? You didn't know? Mark Wahlberg of the The Departed, Boogie Nights and The Other Guys is also rapper Marky Mark! Luckily, this isn't a list of worst actors who became rappers. Now, Wahlberg is only known for his acting and quite right so, with films like Patriots Day and Lone Survivor showing he has the dramatic and action credentials to earn Hollywood elite status.
1 Will Smith
It couldn't be anyone else really. Although his stock has lowered and he isn't the box office draw he used to be: Will Smith has jumped the gap between music and movies and jumped back again more than once; making a ton of money every time. Although he will never be The Man in Black again or manage to equal Bad Boys or Independence Day, he has recently shown he still has some of that old charm, being one of the better aspects of the car crash that was Suicide Squad.
3 of the Worst
3. Andre 3000
At one time Andre 3000 was the coolest person in music. Hey Ya was a massive hit and it seemed he was going on to great things. Unfortunately, they would not be within movies. Forgettable in Guy Ritchie disaster Revolver, weakest link between four brothers in Four Brothers and worst of all; a poor and unofficial Jimmy Hendrix. Even music couldn't save Andre's acting career.
2. Snoop Dogg and Dr Dre
They have had cameos separately, Dre in Training Day and Snoop Dogg in Starsky and Hutch, but it is when they combine their powers that they really suck. The Wash was a self-indulgent, Cheech and Chong meets Buddy-Cop wannabe which didn't work… mainly because these two are as bad actors as they are great rappers.
1 50 Cent
50 Cent is remarkable because he has had a great career considering he can't actually act. Headlining his own biopic, acting alongside greats such as Al Pacino, Robert De Niro, Jake Gyllenhaal and gracing the cover of many a straight-to-DVD action classic, 50 Cent doesn't act as much as mumble his lines in a menacing way – much like his rapping really.
Overall, moving from acting into movies isn't easy and many have failed. Those that have done it well have managed to make their rap careers forgettable. Those have done it badly have become forgettable themselves. Feel free to add your own suggestions below.