There was a sense after Cars 2 that the Cars franchise should be put to rest. Money will always win out though and Cars was given a third outing and another attempt to repeat what wasn't particularly a grand opening in the first place. To their credit, Pixar haven't gone for the comedy, silly route that over-shadowed the second movie and instead decided to tell a story about getting old, reliving your glory days and passing the torch.
That is done very successfully with a great first act shock. Baited and outdone by new, younger rival Jackson Storm, played as slimy as can be by Armie Hammer, Lightening McQueen pushes himself too far and has an almighty crash. This doesn't feel like the colourful, safe world that Cars originally embodied but instead adds a sense of danger and regret to the more jovial characters.
What it does jump-start is an intriguing story about McQueen trying to get back to his best and compete with the new, technologically sound and highly trained new generation of cars. It makes for a different type of film to the two that precede it, with McQueen placed firmly on the back-burner trying to regain his former glory.
From here the film becomes a training movie. Racing is thankfully back at the centre of the film after the strange spy-detour the last movie took, and it is all the better for it. We get great scenes involving simulators, racing on the beach and a very cool demolition-derby style sequence which shows the "other-side" of racing away from the flashy Nascar.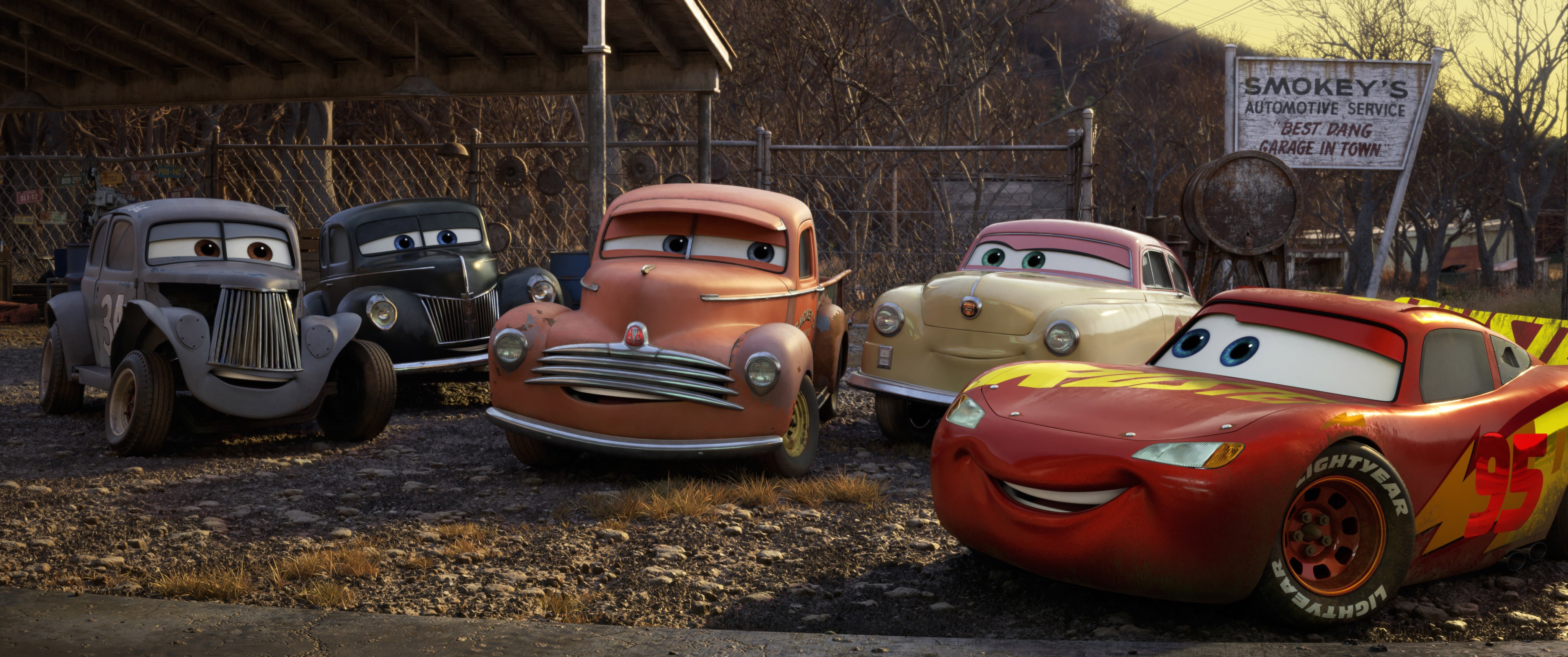 There is also some development with characters as well. Unfortunately, the original characters which populated Radiator Springs get a slightly bum-deal here in favour for a new range of supporting players. McQueen gets a trainer, voiced by Cristela Alonzo, who infuriates McQueen while trying to prepare him. This is also some newer, older characters who take the mentoring role filled by Doc Hudson in the original. Chris Cooper brings alive Dusty, who leads a troupe of legends that Hudson originally raced with. The scenes where McQueen trains with these characters are some of the best of the film and it becomes a movie not unlike The Karate Kid, where McQueen is returning to competition to take back his lost title.
The Doc Hudson connection isn't one to brush over either. Paul Newman had died since Cars 3 was made but there is a great dedication his character in this film and the way his legacy means something to McQueen. Owen Wilson, as McQueen, plays the more tender role well and brings the aged McQueen to life with success.
Following a well-worn sports-comeback template, the story is predictable, even when it is trying not be. It is done so well though and works because the characters are as good as they've been since the first movie.
Overall, Cars 3 returns the story to its racing car roots. It is a tale about getting old and letting go which has plenty of heart and pathos, especially when looking back at the contribution of actors like the late Paul Newman. It has good humour and plenty of decent, exciting scenes too. It would be better if we could forget the random second movie though.
Rating – 4
(1 – Awful, 2 – Average, 3 – Good, 4 – Great, 5! – Must See)
As always get in touch below with a comment but also like our page on Facebook (Views from the Sofa) or follow us on Twitter – @viewsfromsofa