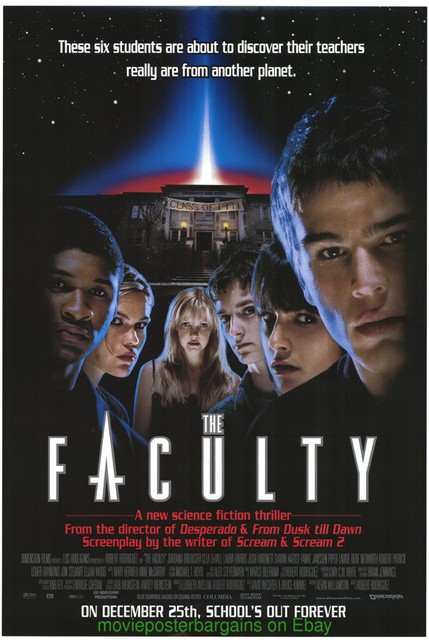 There is something perfectly 90s about The Faculty. Made at a time when slasher movies were back in vogue (due in to small part to Wes Craven's Scream), The Faculty captures popular culture with a high-concept premise, young 90s newcomer cast and a stalwart support for the titular teaching staff.
It also very well made. It knows what it wants to be and never strays from the formula. It has a high school setting so immediately goes down the stereotype route for it's cast. The geeky kid is played by Elijah Woods, the dangerous loner is Josh Hartnett. The Jock and his Girl are played respectively by Shawn Hatosy and Jordana Brewster while the outsider girl is Clea Duvall. Each play their part well and bring the usual Breakfast Club characters up-to-date, with aliens their bonding agent rather than detention.
Which brings us to the teachers. Again, it is a great cast of actors playing their creepy parts expertly. Famke Jansen and Salma Hayek make early career appearances while Jon Stewart is a random casting as well. It is, of course, Terminator 2's Robert Patrick that steals the movie and brings back some of that menace and terror that has made him such a convincing villainous actor.
The story is not inspired but is always entertaining. Aliens have taken over the teaching staff of a school and are slowly taking over the student body too. This gives us a film of kids versus teachers, a trust-nobody dynamic that is surprisingly effective and some great scenes of tension that bring back memories of John Carpenter's The Thing. One scene involving snorting synthetic drugs is one which is full of surprise, great reveals and shock twists.
As much as it plays to the stereotypes, it is also a film which plays with them as well. It has a strange choice of hero and leaves the audience guessing as to who will be the next victim and who will be left fending for themselves at the end. It also has a great finale to tie together the movie, slightly aged CGI aside.
It does have a bizarre tone however. Take the bad language, nudity and adult themes away and this film could be a classic family movie, with a more Stranger Things vibe than the slasher feel they have gone for. It also struggles to offer anything new and although there are twists and a few rug-pulls, it isn't actually delivering anything you won't have seen many times before.
Overall, The Faculty is an example of a good story delivered well. It is throwaway but has some great moments, with a who's who of 90s cast, many of which have disappeared since. It doesn't offer anything new but does solid slasher horror well.
Rating – 3
(1 – Awful, 2 – Average, 3 – Good, 4 – Great, 5! – Must See)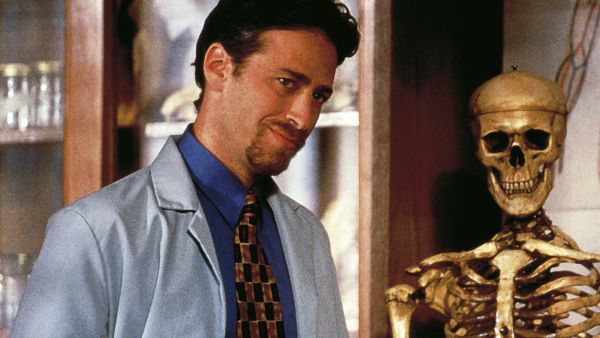 As always get in touch below with a comment but also like our page on Facebook (Views from the Sofa) or follow us on Twitter – @viewsfromsofa