Welcome to Marwen could be the closest we get to seeing Steve Carell carry an war/action movie but Marwen excels when it actually comments on the effects of trauma and PTSD. There is a clear and very neat hook at the centre of Marwen which is the recreated Belgian village in the backyard of the central character, Mark Hogencamp. Hogencamp is played by Carell as a recluse, quiet and clearly troubled as glimpses at a socially awkward "day in the life" build this picture of our protagonist.
The hook to the movie is when Hogencamp lives a fantasy life through the action figures and dolls he uses to stage WW2 scenes and reenactments. They are photographs to him but the audience sees Hogencamp's imagination take over and the events of his life play out as heroic stories where Captain Hogie is the hero, alongside some bad-ass women who help him kill Nazis and protect Marwen.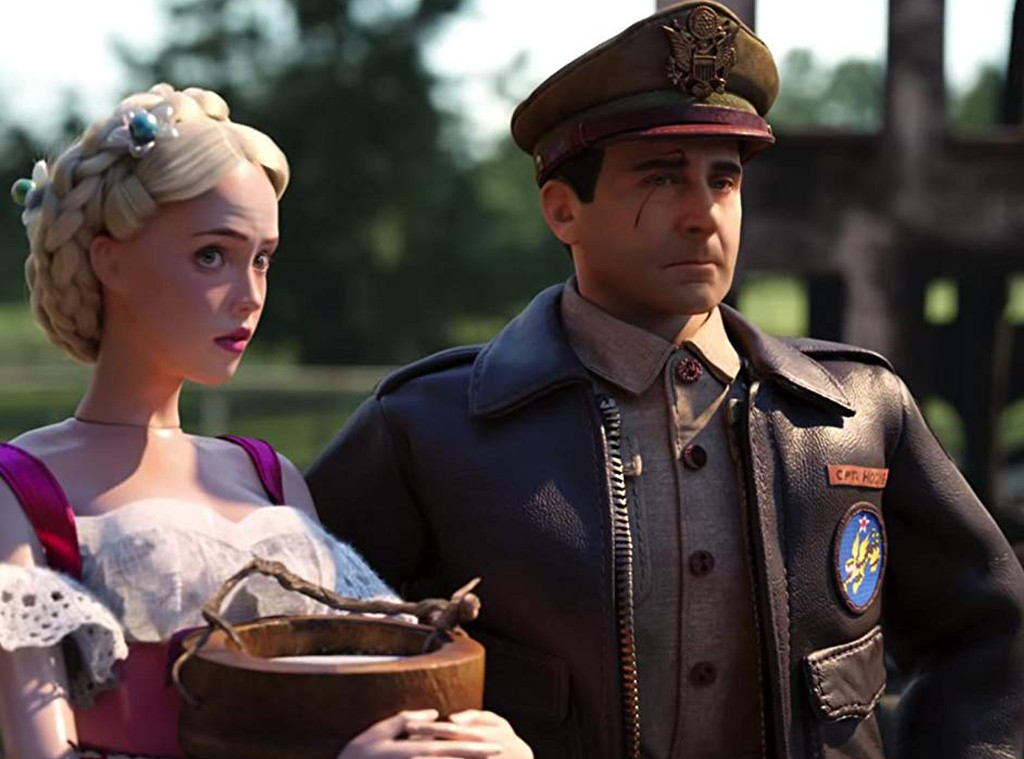 It is here that the imagination and creativity of Director Robert Zemeckis comes to life. These sequences are played out so well, with a lot of toy violence, tense stand-offs and surprise villainous returns. It could be a film unto itself but underneath the cool gimmick, there is a very clever message about trauma and coping mechanisms that the movie, and particularly Carell himself, brings to the forefront well.
Carell puts in another dramatic performance that shows he is much more than the comedy talent which made him famous. Carell has made some great choices with smaller dramatic roles and Marwen demonstrates this side of his acting yet again. He is ably supported too, with emotional turns by some great female casting, from Gwendoline Christie through to Janelle Monae and Merritt Wever. Each is required to play their real-life support of Hogencamp but also add a character voice to their doll counterpart.
It is Leslie Mann who manages to make the biggest impression as support cast, on both Hogencamp and the movie as a whole. She provides a great insight into this unusual world but also holds some of the more dramatic and awkward scenes on her shoulders. This is a movie which doesn't shy away from that side of trauma and although it looks fun and tongue-in-cheek at first, there is a dark edge to the story throughout which is presented well.
The only issue is how easily it feels everything is wrapped-up. A happy ending is great but this film doesn't feel it needs one as tidy as Welcome to Marwen's is. There are some links to the "true story" at the heart of the film which raise a smile but it also feels like it cops-out on what is not an easy subject to overcome.
Overall, Welcome to Marwen is a great way to demonstrate a particularly unique story. The blend of animation, CGI and real-life is done fantastically and it is all held together well by another dramatic performance from Steve Carell. The ending falters slightly but this is a fun and unique movie which shows the impact of trauma and PTSD very well.
Rating – 4
(1 – Awful, 2 – Average, 3 – Good, 4 – Great, 5! – Must See)
As always get in touch below with a comment but also like our page on Facebook (Views from the Sofa) or follow us on Twitter – @viewsfromsofa