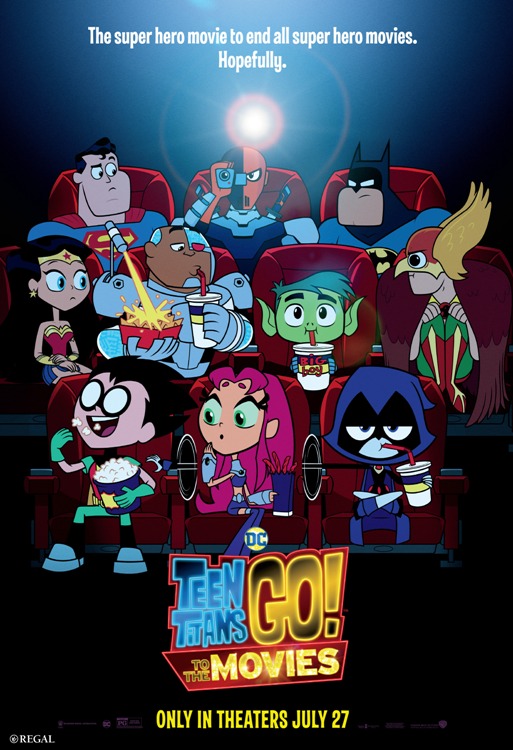 Deadpool took the superhero template and blew it out of the water. It lampooned the genre, poked a stick at the poe-faced seriousness and managed to laugh at itself, the biggest characters and stars and still come out with a quality movie. Unfortunately, it is also R-Rated and although I'm sure there are plenty of kids who watched it, they weren't the intended audience.
Which is where Teen Titans Go to the Movies so ably steps in. A super-group of bright-coloured, sugar-injected, uber-positive teenagers who some will recognise and others will not that not only do what Deadpool managed with the superhero genre but also take it a step further at points.
From the very opening, this is self-referential, meta-fun. A huge villain to fight, a theme tune to sing and a very clear introduction to the powers (and limitations) of the superheroes makes for a fun beginning to the movie. The real fun starts when the characters begin to crave the movie-stardom and treatment that the better known superheroes have gotten. One sequence about the many supporting Batman characters who are getting movies, all of which are not Robin, is perfectly pitched and highlights a lot of the errors with superhero movies today.
This level of silly fun and clever self-reference continues for at least two acts and the comedy is well-maintained for at least two-thirds of the movie. It throws so many gags at the screen that although some don't hit, there is always another clever joke following close behind. The movie even manages to make a clear and poignant bridge to the rival Marvel Universe with some clever nods, jokes and cameos.
Unfortunately, the film comprises a perfectly average story
It is just a shame that there is such a simple and perfectly average story at the centre of the movie. The jokes are so clever and very funny at the beginning that there is a good chance you could forget that you are watching a kids movie but the predictability of the story pulls you back to that realisation very quickly. The jokes are good but they don't save this from being slightly average in it's entirety.
This is seen clearest at the finale and the fairly standard ending that Teen Titans GTM delivers. You want it to be better but you will also find your attention drifting towards the last twenty minutes (unless you are under the age 10 of course).
Overall, Teen Titans Go to the Movies is a very clever, self-referential movie that pitches the jokes and statement on superhero movies today perfectly. Unfortunately, it is let-down by an average story and a clearly average, kid-friendly finale.
Rating – 3
(1 – Awful, 2 – Average, 3 – Good, 4 – Great, 5! – Must See)
As always get in touch below with a comment but also like our page on Facebook (Views from the Sofa) or follow us on Twitter – @viewsfromsofa