The best aspect of Pulp Fiction is not the well-plotted story, which is twisted and interwoven perfectly, or the fantastic cast, some of which deliver the best performances of the their careers, but instead its the simple, inconsequential writing. Director Quentin Tarantino would become known for his naturalistic way of writing dialogue and bringing the mundane but ultimately interesting to any sort of scene. Pulp Fiction has this in abundance and it works perfectly here with conversations about burgers, sucking toes and priceless watch heirlooms fitting perfectly into the twisted, layered but expertly crafted plot.
To say "plot" is too simplistic. Pulp Fiction brings together four or five key stories, with mini-stories embedded within. It has everything from gangsters collecting briefcases, defeated boxers skipping town, a disastrous non-date and a run-in with a gimp. Considering Pulp Fiction has so many different aspects, all interlinking, overlapping and causing knock-on effects within each story, its a testament to Tarantino's writing that none of this is ever boring and although some stories do stand-out, they are all engaging.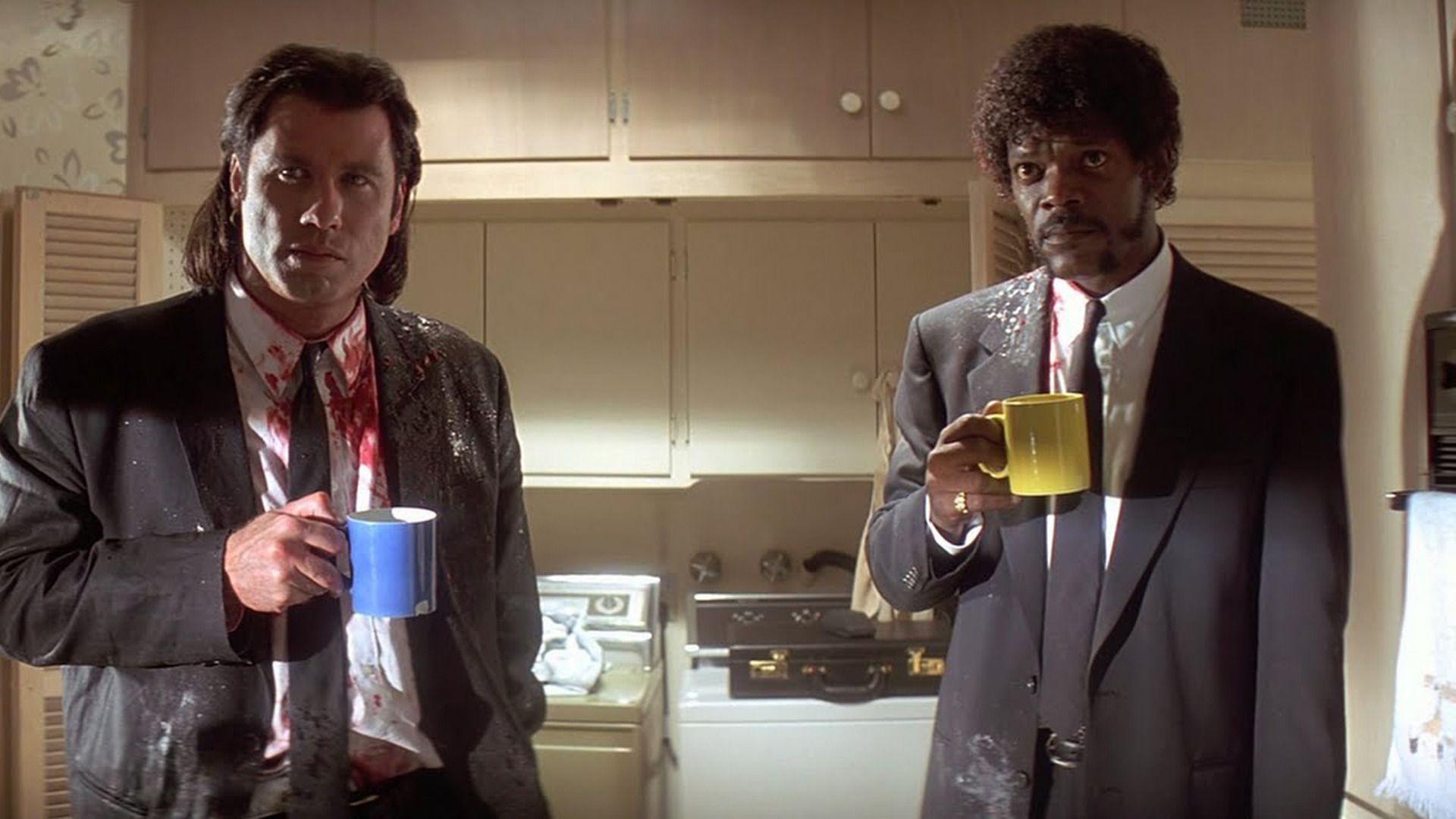 It does mean this is a film which jumps from one type of scene to another. Comedy comes from bizarre tragedy, bizarre set-pieces lead to extremely tense stand-offs and the way the movie is book-ended by the same scene, unfolding in more depth once the events of the movie have played out, is as clever as writing can get.
All of this is helped by a fantastic cast. Considering this is Tarantino's second movie after Reservoir Dogs, he has a cast which come together as if this was a legendary director's last hurrah. Samuel L Jackson plays the coolest heavy on-screen, a role which would go on to define his career while John Travolta revives a long-dead career playing Jackson's violent, ultra-cool partner. Uma Thurman almost steals the movie in her segment while the movie also gives us Bruce Willis in a situation out of his comfort zone. All this and there is room for Harvey Keitel and Christopher Walken to make impactful cameos.
The movie has become legendary and delivers so many iconic scenes which never get tired. It is easy to see why so many directors have tried to imitate this sort of movie and try to ape the style of Tarantino, with the director himself never truly bettering his second movie. There is a freedom and independent style to this film which feels lost in his later movies as he gets more ambitious and to some, self-indulgent. Pulp Fiction is Tarantino working to a small budget, delivering what feels like a small film but giving the world a movie which would become timeless.
Overall, Pulp Fiction is an iconic movie. The stories are well-told, the cast delivers with star names playing key roles and Tarantino finishes it off with his signature, inconsequential but endlessly repeated dialogue. Tarantino would never better this movie but he would come close.
Rating – 5!
(1 – Awful, 2 – Average, 3 – Good, 4 – Great, 5! – Must See)
As always get in touch below with a comment but also like our page on Facebook (Distinct Chatter) or follow us on Twitter – @distinctchat