As a highlight of the some of the worst of American society while managing to bring the comedy successfully, there are few movies that do this as well as Borat. Its easy to forget, especially with the character becoming such a pop-culture phenomenon off the back of this movie, that this was not a broad, fish-out-of-water comedy. This is a social commentary and one that highlights some funny but very scary aspects of American culture (which are still relevant and present today).
The secret to discovering this aspect of society and getting people to willingly show this side of themselves is that Borat is hilariously ignorant of Western Culture. Its in this that Sacha Baron Cohen's genius is showcased, alongside his bravery, as he says and does things with the "normal public" that most people cringe just watching. This is where a big part of the humour comes from, be it putting your waste in a bag and taking it to the dinner table or saying some truly offensive things to rightly outraged feminists. Its important that you are laughing at Borat as much as those he is mocking and this works very well.
The second aspect to the humour is the outrageous things Borat gets the public to say. This is less hilarious and much more incredulous, as Borat manages to highlight some of the more extreme aspects to society, often with very little prompting. Cohen always manages to under-cut the tension though, always by making Borat the most ignorant and offensive in the room (although sometimes this is a close run thing).
It can't just be Cohen's Borat talking to random people in America though and there is a well-staged story which the movie hangs loosely upon. This in itself leads to some fantastic scenes, including a hotel chase which is unbelievable to watch and a pay-off in the finale which feels staged but you will still watch through your fingers.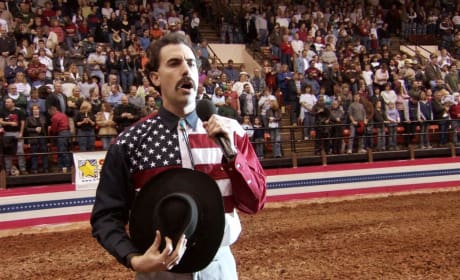 The movie is about the interactions though and unfortunately, a lot of what is uncovered and said here shocks less today than it did in 2006. The Borat movie hasn't aged well because we now know, through the way society, media and culture has shifted, that what is said and done in this movie by the American public, is the tip of the iceberg. In highlighting the still quite shocking aspects of society in 2006, the most shocking part of watching this today is how tame it now feels.
Overall, Borat's movie highlights how intelligent, brave and hilarious Sacha Baron Cohen is as he unleashes his "prank" version of social interaction on America. There are some amazing scenes and cringe-filled moments that you will watch through your fingers. The story is good too, with an unexpected pay-off. Unfortunately, it hasn't dated too well as the more extreme aspects of American society uncovered here feels quite tame compared to today.
Rating – 4
(1 – Awful, 2 – Average, 3 – Good, 4 – Great, 5! – Must See)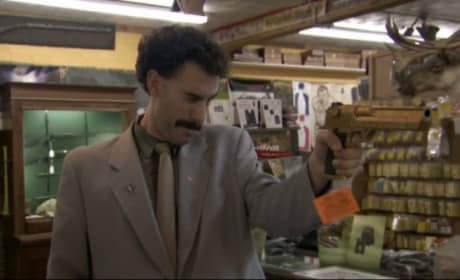 As always get in touch below with a comment but also like our page on Facebook (Views from the Sofa) or follow us on Twitter – @viewsfromsofa