Erin Brockovich is how you tell a true story of the under-dog versus The Man. It is a well-told, well-acted and perfectly pitched story which has a chilling tale to tale but does so without getting too melodramatic. It also features Julia Robert's best performance.
Roberts plays the titular Brockovich who wrangles herself a job at a law firm and finds herself assisting Albert Finney's lawyer in a class-action lawsuit against a multi-billion dollar company who may be poisoning the local town. As an underdog story, it has many different facets. The small town people versus the mega-company, the single-mother versus the corporate lawyer, the unconventional legal aide versus the cynical people she works with. There are so many hurdles Roberts and the supporting cast jump that you can't help feeling empowered and satisfied with every victory.
It helps that Robert's Brockovich is so likeable. She is a woman who is struggling with life but doing so with determination and intelligence. Her "rough and ready" demeanour means she isn't taken seriously but the way she uses this to her advantage is always a delight to watch. Roberts manages to make Brockovich crass without being annoying, earnest without being soppy. She feels realistic (which makes sense since she is actually a real person).
The true aspect of the plot also means your attention is held from the outset. The accusations against the company, and the wide reaching effects that their potential poisoning has caused, are shocking and director Steven Soderbergh does well to bring the human elements to the forefront, with some heart-breaking testimony. It also helps build the pressure and obstacles that Brockovich has to face to win, leading to some great scenes in which she runs rings around the more experienced corporate lawyers.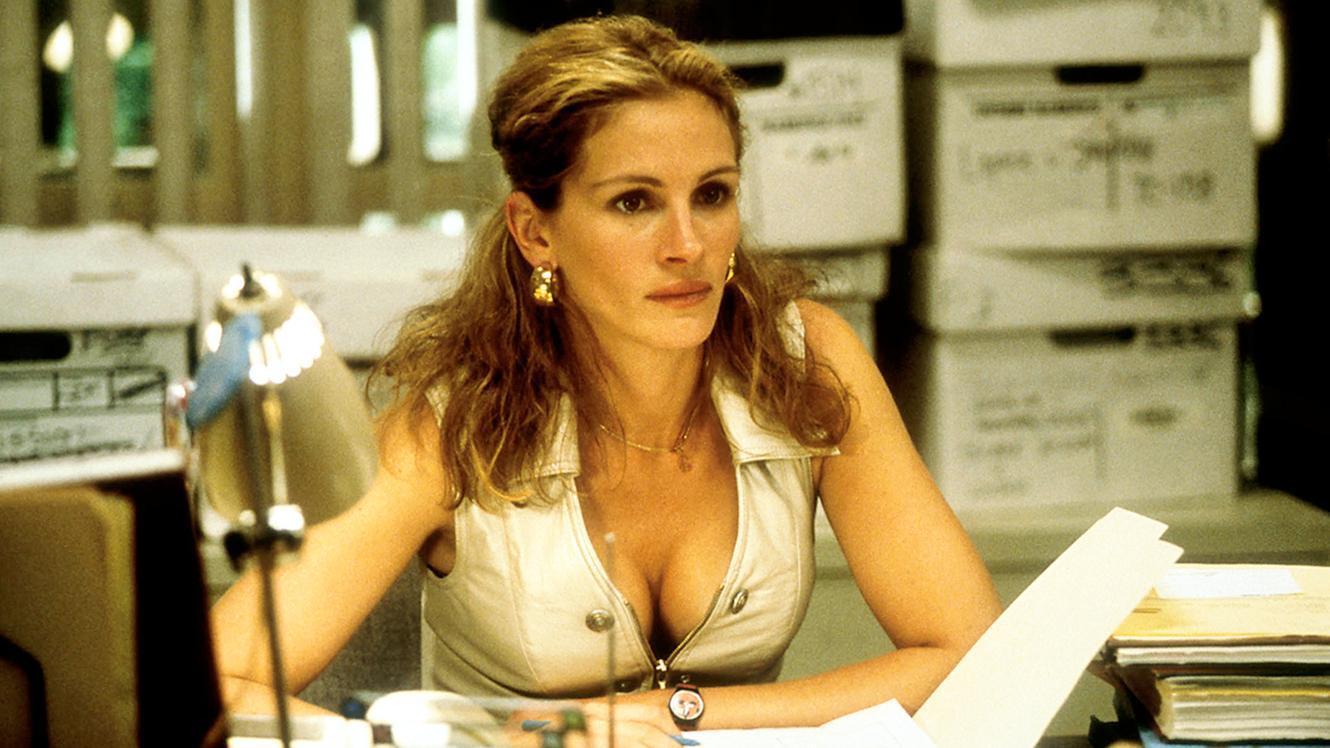 With Roberts being so good in the titular role, it is easy to look past the support and Albert Finney is fantastic. He has some great scenes with Roberts and their double-act makes you want them to succeed even more. The same can be said for Aaron Eckhart's George, the kindly neighbour who helps highlight how this heroic effort causes ripples in Brockovich's personal life too.
Overall, Erin Brockovich is a great "David vs Goliath" story and Roberts holds it together effortlessly. She is a likeable character, who you want to succeed despite her crass, bullish demeanour. She gets some great moments and it manages to bring a very important part of legal history to the screen well. Her chemistry with both Finney and Eckhart make this a fantastic movie too.
Rating – 5!
(1 – Awful, 2 – Average, 3 – Good, 4 – Great, 5! – Must See)
As always get in touch below with a comment but also like our page on Facebook (Distinct Chatter) or follow us on Twitter – @distinctchat