The Nightingale is brutal and uncomfortable viewing. It has to be if it is going to do the excellent story it is telling justice and these moments do add to that tale overall but for many it will be too much and there could well be an argument that they could be right.
The movie is set in Tasmania during British rule, or more accurately oppression, when the natives of Tasmania were treated as second-class citizens, serving the British military under a rule of violent assault. This is demonstrated early on when Aisling Franciosi's Clare finds herself in the "employ" of Sam Claflin's soldier Hawkins. He treats her badly, controls her through some unseen debt and stops her leaving when her husband wants to take his family away.
All this comes to a head in the first uncomfortable scene which becomes the catalyst for the whole movie. A scene which involves the rape of Clare and the stark murder of her husband and baby will be enough to put most people off this movie but what it also does is gives Franciosi's character the justification she needs to seek her revenge.
The Nightingale is many different films. A focus on a specific point in history, a focus on the terrible treatment of women, a focus on the racism and terrible treatment of the indigenous peoples and ultimately, a revenge movie. If it sounds complicated and messy, that's because it is but because it needs to be. This is a complicated but realistic story, which brings in many different characters and a lot specific key moments.
Franciosi's Clare must follow the soldiers responsible for the death of her family across the Tasmanian wilderness. To do this she needs a guide and this is when Baykali Ganambarr joins the story as Billy. This adds a new dynamic to the movie as Clare also has prejudice of her own, untrusting of the Tasmanian native who she has been raised to believe is an animal or savage. Their developing relationship is a highlight of the movie and both actors are fantastic, bringing the struggle alongside their frayed relationship to the forefront well.
As the pair move across the Tasmanian wilderness, they find themselves encountering the wildlife, terrain and other dangerous people. The film is one of key moment and high-tension set-pieces but this just adds to keep you engaged and the story is never dull as we urge Clare on to gain her revenge.
As for her target, Claflin's Hawkins is a nasty villain. Bordering on the far-fetched, its the brutal realism of his actions which keep him a grounded character. After the events which prove to become Clare's motive for revenge, the film still pushes ahead with the violence, both physical and sexual. This is always uncomfortable, often framed purely on the victims face as the events are unfolding. There is a valid argument that these moments are unnecessary and overkill for the movie but that depends on how important you feel they truly are for the story.
What it leads to is a story which you are truly invested in though. It means you are behind the characters fully and find some relief and satisfaction in the final act, even if it doesn't quite go the way that the story may have you thinking.
Overall, The Nightingale is a brutal, violent but a completely compelling movie. It covers a range of different aspects with its historical revenge story and these are brought to life by some fantastic performances, namely from Franciosi and Ganambarr. The violence will put some off, and that could be justified, but it doesn't take away from how good this story is.
Rating – 4.5
(1 – Awful, 2 – Average, 3 – Good, 4 – Great, 5! – Must See)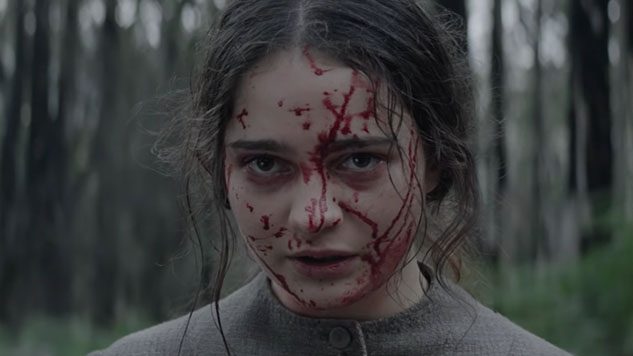 As always get in touch below with a comment but also like our page on Facebook (Distinct Chatter) or follow us on Twitter – @distinctchat