This should not be a story which resonates today but unfortunately, a movie which focuses on injustice, freedom of speech and police brutality still has relevance. It is important then that it is delivered well, with a fantastic cast, great writing and direction which marries the two together. The Trial of the Chicago 7 has this all and it makes for a fantastic movie.
Chicago 7 is a neat blend of court room drama, flashback and heated discussion. It has a complex story to tell, unravelling and unpicking a case where peaceful protesters are blamed for a protest turning violent, and were then met with what was believed to be justified police brutality. This is a film which doesn't strive to tell a balanced view (because if events are to be believed, there isn't one) but still has to try to give the film some suspense and opportunity for the audience to discover moments as the characters do.
Luckily, as complex a task as that is, it is handled well by the capable writing and direction of Aaron Sorkin. Sorkin's writing has already become that of critical acclaim and Chicago 7 is no different. He has a way of telling a story which makes a room full of men discussing feel as thrilling and edge of your seat as a car chase. The dialogue is quick and witty without feeling forced which is why a court room drama suits the writer/director so well. There are moments of action, suspense and thrill in Chicago 7 but I guarantee the court-based scenes will be the aspects of the film that hold your attention the most.
This is also down to the actors delivering the lines. The cast is great and delivers an interesting juxtaposition of personalities. Eddie Redmayne is as reliable for the dramatic as always, playing the quiet but determined Tom Hayden, while on the opposite side is loud, brash and seemingly reckless Abie Hoffman, played by Sacha Baron Cohen. It is Mark Rylance's put-upon and exasperated lawyer William Kustler who you will feel for the most though, as he wrangles his own feuding clients and tries to battle a legal system framed as unfair and unjust.
Perhaps this would be the area of complaint had it not been so well documented. You will be shocked and stunned at times at how unfair the system is and how misbalanced. The protesters also include Black Panther member Bobby Seale and his aspect of the story is the most pertinent and most frightening. Brought to the screen by Yahya Abdul-Mateen II, nobody highlights the injustice more than him and as his story progresses, you find yourself more disgusted and more engrossed in the true events as they occurred. To its credit, Chicago 7 has that envious of qualities that once the credits are rolling, you want to find out more and see how truthful and accurate the film really is.
Overall, The Trial of the Chicago 7 delivers an all too relevant story of protest, brutality and racism. You will be engrossed by the well-balanced events, court room drama and wordy scenes which are expertly put together by director and writer Sorkin. The cast are superb with Redmayne, Cohen and Rylance leading the charge.
Rating – 5!
(1 – Awful, 2 – Average, 3 – Good, 4 – Great, 5! – Must See)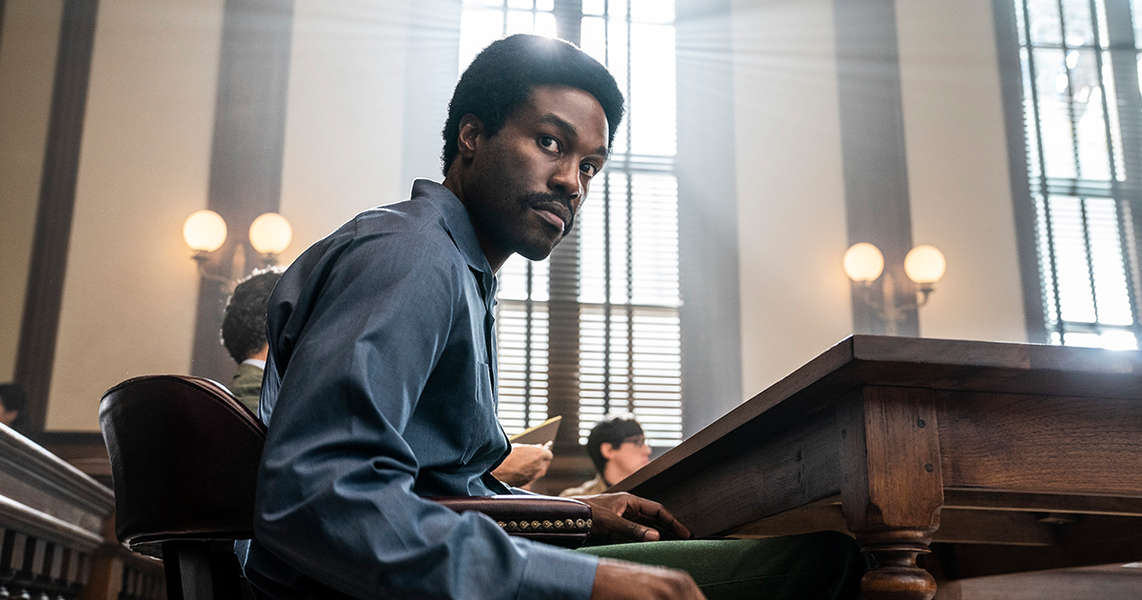 As always get in touch below with a comment but also like our page on Facebook (Distinct Chatter) or follow us on Twitter – @distinctchat