The Mole Agent is a fantastic idea that doesn't quite deliver what it intends to. That doesn't make it a bad film, or a less effective documentary, but what it will do is infuriate some as the movie it becomes isn't necessarily the one you expect.
It begins when Romulo Aitken employs Sergio Chamy to go undercover in a retirement home to ensure a client's elderly Mother is not being robbed. The initial moments of the movie are funny, although not necessarily intentionally, as Aitken tries to teach Chamy how to use the "spy" equipment, sets out the rules and procedure for being a "mole agent" and becomes frustrated for his inability to understand or follow the instructions. Although never completely ageist, it can become borderline.
When Chamy enters the retirement home, what the film becomes is a showcase for how the elderly are treated. Chamy slowly becomes attached to the varying people within the retirement home, getting to know them, their fears, concerns and what makes them happy. You watch intently as this cast of real life "characters" emerge and develop while Chamy slowly investigates.
As Chamy's time there continues, another emergence is the sub-plots and small stories that each of the tenants experience. You will become invested in their lives the same way Chamy has and there are some sweet moments, heart-breaking moments and most of all, infuriating moments. Chamy doesn't really uncover what he intends to but what he does uncover is arguably worse.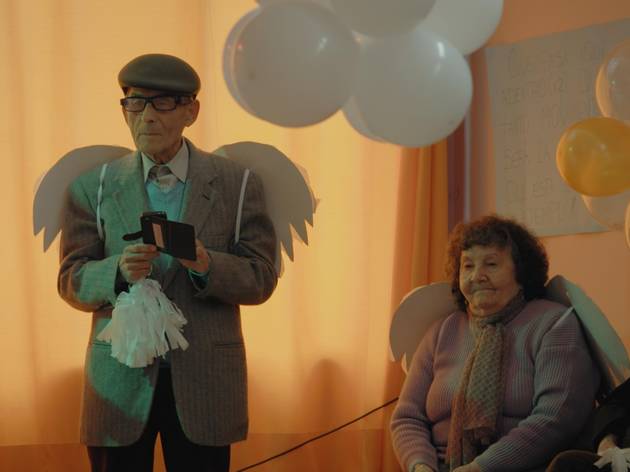 There is a final message to The Mole Agent, which highlights how badly the aged are treated and how easy it is to be, or at least feel, forgotten. The movie demonstrates this better than it probably intended to and this becomes the direction and eventual intention of the documentary.
Although at times documentary feels slightly misleading. It does feel a bit "staged" at times and the way the movie tries to have you believe all this was done "secretly" just doesn't ring true. You can't help feeling that the initial concept of the movie was nothing more than a hook to gain an audience and that the story it tells is what the film-makers intended from the outset.
Overall, The Mole Agent is a great idea at first but doesn't deliver on its intention. That doesn't make it any less interesting, in fact it delivers a movie with a much more heart-breaking and important message. At times, the movie feels too staged to be a documentary which stretches credibility somewhat.
Rating – 3.5
(1 – Awful, 2 – Average, 3 – Good, 4 – Great, 5! – Must See)
As always get in touch below with a comment but also like our page on Facebook (Distinct Chatter) or follow us on Twitter – @distinctchat