Some ideas are so simple and so perfect that you wonder why they haven't been done before. What better way to appeal to kids than tell a story in which their toys magically come to life whenever they are out of the room. It is a simple concept but with it,  movie studio Pixar and director John Lasseter build and develop a world which is creatively interesting and perfectly entertaining.
The story has to be built around great toys for it work. Any movie lives or dies on their characters and Toy Story is no different. Here the lead is Woody, a heroic cowboy who all the other toys look up to. Although he is a fictitious character, there are plenty of recognisable toys within the movie, from a cranky Mr Potato Head, a faithful Slinky-Dog through to an Etch-a-Sketch and a Bucket-O'-Soldiers. They create a diverse range of very funny, likeable and enjoyable characters that gets you invested in this world from the beginning.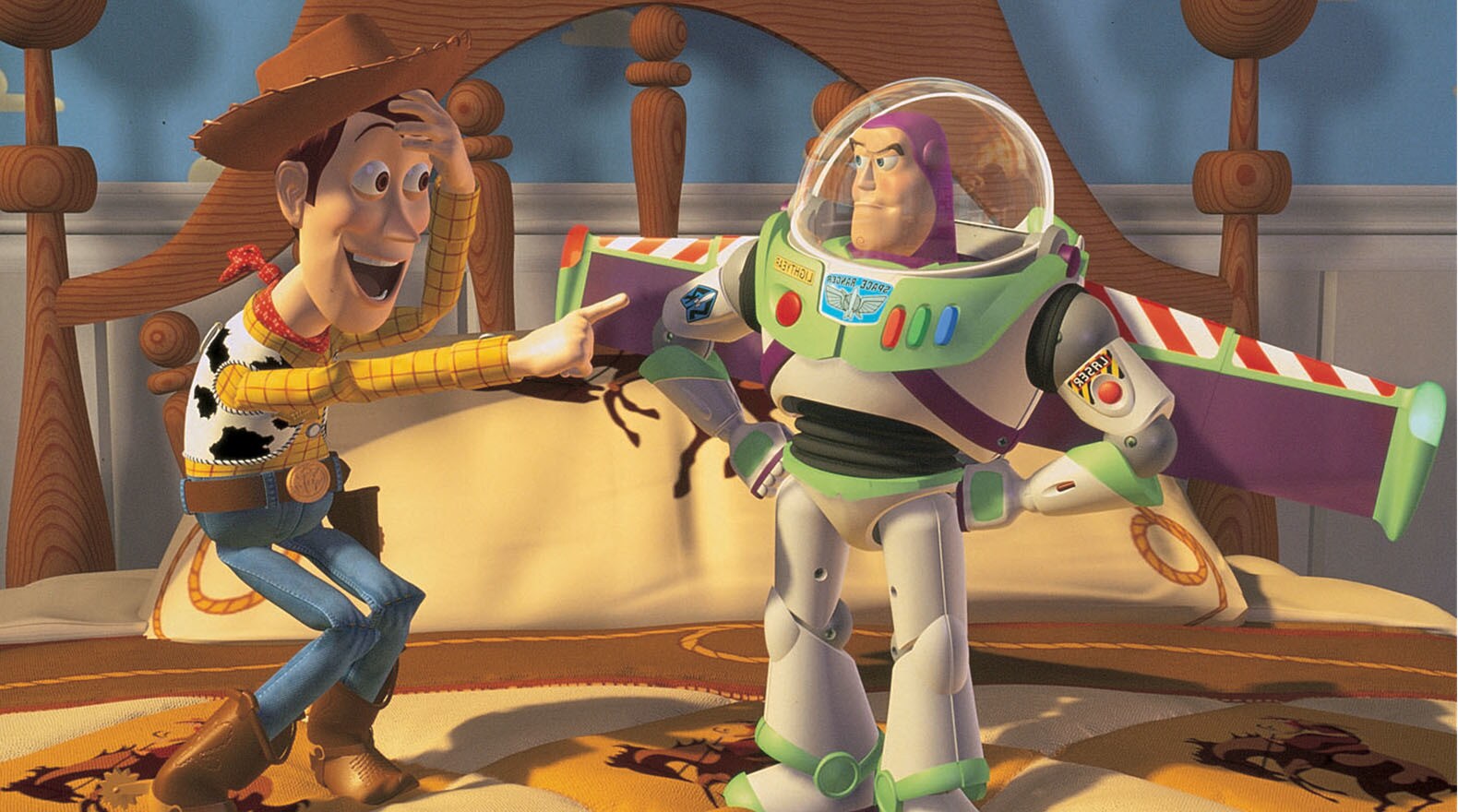 The addition and catalyst for the story is new toy Buzz Lightyear. He is a space-ranger and heroic action-figure with flashing lights, hidden gadgets and a new, fresh look. What follows becomes a story about jealousy, friendship, identity and finding your place. It is also an action adventure, with these little toys finding themselves in all manner of trouble, from the dangerous dog-patrolled yard, a child-filled pizza restaurant and at the hands of the evil, toy "killing" neighbour next door.
The story is as simple or as complicated as you want to read into it but it isn't patronising. Lasseter doesn't approach Toy Story as a straight kids film and there is much more than just a moral or life-lesson for kids to take away from the film. In some cases, the toys have a darker edge to them, as demonstrated in one particular scene involving a magic 8-ball, a lamp and dive out of a window.
It is never too grim though and Toy Story has a great sense of humour at it's core. It is very well-written and although a cliche, it does in fact appeal to both children and adults alike. The desperation of Woody to convince Buzz Lightyear he is a toy through to Lightyear's pigheadedness and disillusion and with the inclusion of the supporting characters and their quirks adds new levels of comedy to the movie throughout.
It also helps that Toy Story has such a strong voice-cast. Woody is voiced by the always excellent Tom Hanks, who adds a leadership and calm to a character who will eventually lose his cool. Trapping a moment of pop culture is Buzz Lightyear, voiced by Tim Allen. He brings the bravado that made him so famous to this character and his voice matches the space-ranger perfectly.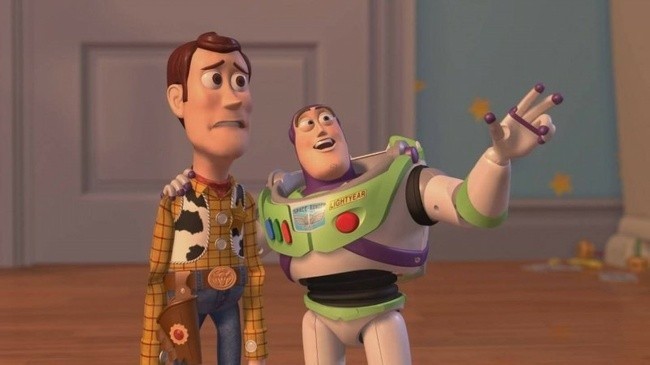 Add to this a cast which includes Cheers favourite John Ratzenberger, Ghostbusters alumni Annie Potts and entertainment stalwart Don Rickles and you have a voice cast so strong and recognisable that they ably bring the computer animated characters to life.
Which brings us to the computer animation. Pixar is now renown for their computer animation and being at the cutting edge of CGI but Toy Story is dated by the limitations of 1995. The computer animation was amazing for that time and nobody could touch Pixar for how seamless and smooth their animation was but now that techniques have moved forward so far, Toy Story does jar slightly with how dated the techniques now look.
Overall, Toy Story is a triumph for a studio creating their first feature-length movie. It has a great central concept, a host of likeable, memorable characters and a story which appeals not just to the littlest of children but the biggest of kids as well. A great start for Pixar.
Rating – 5!
(1 – AWFUL, 2 – AVERAGE, 3 – GOOD, 4 – GREAT, 5! – MUST SEE)
As always get in touch below with a comment but also like our page on Facebook (Views from the Sofa) or follow us on Twitter – @viewsfromsofa