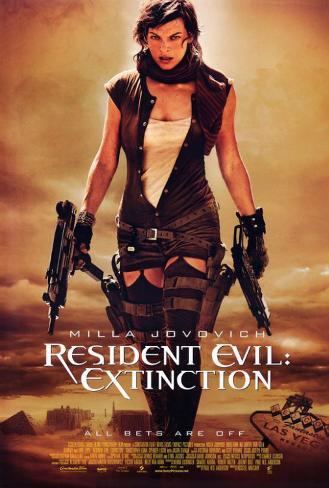 To give Resident Evil credit, it is growing and developing as each sequel arrives. From one location, to a city and now to the end of the world, the scope for the movie is larger and the story is developing as well. Clearly Resident Evil is doing great things for a studio who are offering an even bigger budget to deliver something different and hopefully better than before.
Some of that investment has seen progress. The location and idea of the end of the world and a desert wasteland as the setting of the movie is a good one. It offers something that hasn't been seen before and we get an interesting set of characters as our eyes to the world. The movie generally follows a travelling convoy who are made-up of a collection of rag-tag survivors. The mix is good, from returnees to the franchise in Oded Fehr and Mike Epps through to new characters such as Ashanti and Spencer Locke. Ali Larter is the significant character of this movie as those that are fans of the video-games this franchise is (loosely) based upon will recognise her as Claire Redfield.
Their story could be a decent zombie survival in itself and they have some great set-pieces as they escape traps, have narrow misses with the undead and come unstuck at the hands of the grotesque hordes. What this does lead us to is the return of Milla Jovovich as Alice.
Alice is now essentially an unstoppable superhero and you wonder how far they can really go with her character. There is a thread through which the franchise hangs but it is loose and fairly dull. It is a generic conspiracy involving clones and genetics which you struggle to care about.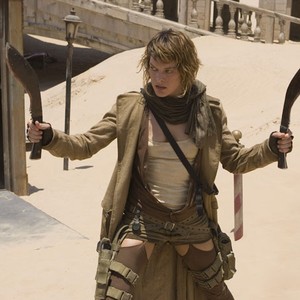 The real pull of Jovovich's Alice is the kick-ass set-pieces and here the movie finds it's strength. Jovovich has never been better in the action-hero role and it has become the key aspect of her character. She cuts through sways of zombies effortlessly and it is always very cool to watch, particularly as in this movie, she is brandishing a double blade combo which adds extra effects to her moves.
It also lends itself to an easy cop-out at times though. One particular moment, a stand-out of the movie, is when the convoy is attacked by zombie-crows. It is a very effective scene and one which works well until the ending which is all too convenient and feels like lazy writing rather than character development.
Unfortunately, this also goes for the end of the movie too. Resident Evil has a set formula and this movie is no different, with Alice once again locked into battle with some mutated monster in a cold, hard and sterile lab environment. It feels a shame to undo the good work that setting this movie in such a desolate wasteland seemed to create.
Overall, Resident Evil: Extinction has some unique aspects, from the setting to some great characters and dynamics. It also feels like it could go in a different direction or be a different type of movie. Unfortunately, as good as Jovovich is as Alice, the character itself feels like more of hindrance than a help to this stale franchise.
Rating – 3
(1 – Awful, 2 – Average, 3 – Good, 4 – Great, 5! – Must See)
As always get in touch below with a comment but also like our page on Facebook (Views from the Sofa) or follow us on Twitter – @viewsfromsofa