Taron Egerton is fast becoming one of the most exciting stars in Hollywood. From Eggsy in Kingsman through to Robin Hood, he has shown he has the required action credentials but it his work here as Elton John which shows he has the acting ability too. Anyone who has seen animated movie Sing! will know Egerton can hold a tune but to attempt to emulate the great Elton John is a bold move, one that Egerton pulls off with ease though and this helps create a very interesting and enjoyable musical biopic.
And musical is the right word for it. Rather than use Elton John's songs as part of the plot, heard through stage performances or during recording sessions, like you saw in Bohemian Rhapsody, this is a properly staged musical. The songs are Elton John's but they are used as grand musical numbers, with choreographed dances, bizarre dream-like moments and songs used in the wrong time or place for the chronology but the best time for the storytelling.
The musical format fits Elton John perfectly though and the story is one of indulgence, grandstanding shows and high drama, which Elton John's songs also compliment too. Once the songs begin you can't help but toe-tap along and there are some great, goose-bump moments, like a great staging of a live "Rocketman" performance or "Saturday Night's Alright" beginning in a pub and ending with a brawl and carnage.
Egerton holds his own throughout it all and some of it really tests him. He has to deal with addiction storylines, facial (and follicle) transformations and some of the most outlandish outfits you have ever seen. At times it could fall into farce and parody but there is straight-edge to it all which grounds it when it could get too silly.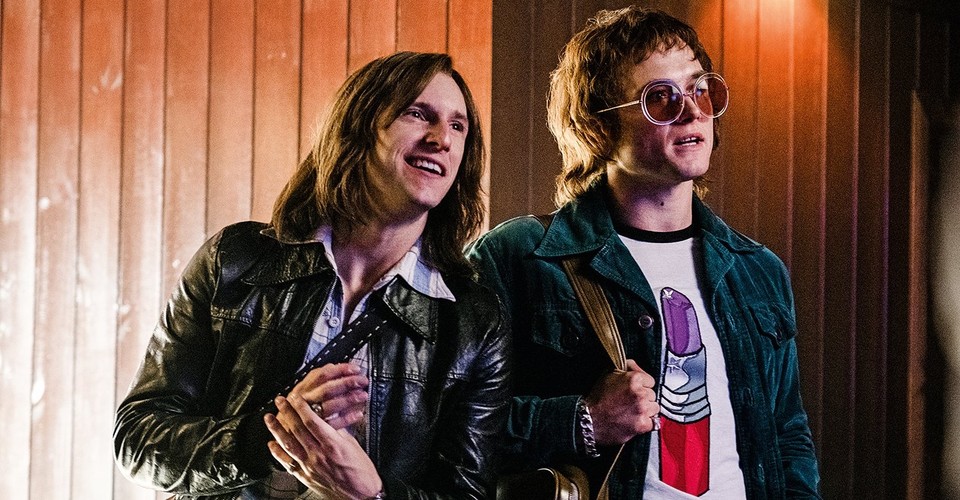 The support for Egerton is also on form. Jaime Bell is writing partner Bernie Taupin and recreates one of the greatest relationships in music, while Bryce Dallas Howard brings a great British housewife feel to the role of Elton John's Mother. Richard Madden gets to play the villain of the movie though and it is these scenes which keep a hold of you, as Madden plays John Reid as a charismatic but evil character.
Unfortunately, it is in these heavier moments that the movie begins to lose its way. Elton John had battles with addiction and depression but the film gets bogged down in these scenes and Egerton finds himself stumbling through the same sort of actions over and over, throwing the darkest moments at the screen but never adding anything to the message with each scene. This also means it lacks a satisfying conclusion, although the choice of song and final scenes do bring a smile.
Overall, Rocketman is an enjoyable and entertaining movie which tells the story of Elton John and uses his songs perfectly. The format of a musical rather than a straight biopic fits Elton John well and Egerton brings him to life effortlessly. Aside from getting lost in the darkest moments of Elton John's life, this is an impressive musical biopic.
Rating – 4
(1 – Awful, 2 – Average, 3 – Good, 4 – Great, 5! – Must See)
As always get in touch below with a comment but also like our page on Facebook (Views from the Sofa) or follow us on Twitter – @viewsfromsofa