At a time when it is clearly very easy to make a lot of money from remaking their animated properties into live action films, Disney does something more interesting with Maleficent. Instead of a dull retelling of Sleeping Beauty, it shifts the focus to telling the story behind the villain. One of Disney's more iconic bad guys, there is enough mystery surrounding her that this could work very well and to their credit, they craft a very interesting tale.
Managing to keep the finer details of Sleeping Beauty in tact but fleshing out the fairly one-dimensional character from the original movie, this is a tale of betrayal, power and regret. In fact, considering she is the villain of the original tale, this movie manages to make you feel very sympathetic for the character and like all good bad guys, she has very relatable and justified means for doing what she does.
The movie offers a chance to rewrite certain aspects though and this is where some of the more interesting new elements emerge. Elle Fanning's Aurora, the princess who will take the deep sleep, meets and befriends Maleficent, causing her conflict over the curse she has lumbered the young girl with. It makes for a great twist on the original story and while saying anything more will spoil aspects, the alternative interpretation of key specifics from the original tale, continue quite cleverly here.
Of course the movie wouldn't work without the perfect actress and Angelina Jolie is perfect is Maleficent. She has the right amount of aloof gravitas while still being able to convincingly crumble when the movie requires her to become more sensitive and vulnerable. The movie also requires some very well-staged action sequences too, where Maleficent gets to go full "bad guy" as she defends her land or takes the fight to the movie's true villain.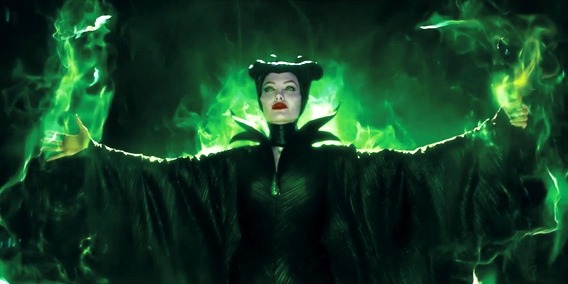 Unfortunately, these aspects are too few and far between and in building the relationship between Maleficent and Aurora, the movie begins to drag and lose focus. The film has a great central core but it spends too long making you understand why you should like Maleficent that it forgets to put the emphasis on the more interesting twists on the original tale. That means that when we get to the heart of the Sleeping beauty story and how it is different here to what we know, key parts of the story are rushed through and not enough emphasis placed on more impactful story beats.
Overall, Maleficent is a great idea with some very interesting aspects. It takes a tale well-known and well-told and twists key aspects to give us a fresh take on a the fairy tale. Jolie is perfectly cast and works well alongside Fanning. In building this relationship though, the movie begins to drag and becomes dull in the middle, undercutting some of the better more clever moments.
Rating – 3
(1 – Awful, 2 – Average, 3 – Good, 4 – Great, 5! – Must See)
As always get in touch below with a comment but also like our page on Facebook (Distinct Chatter) or follow us on Twitter – @distinctchat