This year's Doctor Who Christmas special was a return to form for the show. I had a lot of criticism for the most recent series and recommended that show runner and head script writer Steven Moffat goes back to a simpler, self-contained story. Keep it simple without trying to be too clever.
The Husbands of River Song was the perfect example of how to accomplish this. The story was self-contained and won't necessarily have a larger impact on the wider Doctor Who story, it had a simple premise but wasn't too simplistic and perfectly mixed fun with drama. It began to feel like the best of Doctor Who.
The return of River Song was a great callback for the long-term fans but didn't necessarily alienate the new viewers. It wasn't imperative that you knew who she was to enjoy most of the episode and what it was trying to do. It also meant there was a more involved tale for Peter Capaldi's Doctor and is a good way of still building on The Doctor's mythology without trying to get too complicated.
Alex Kingston still plays River Song with the required cheekiness and charm. She quite literally gets away with murder but never feels like the villain. Her interactions with Capaldi both when she is unaware of who he is and then when it becomes apparent, demonstrate her acting skills and why the character is one who continues to return.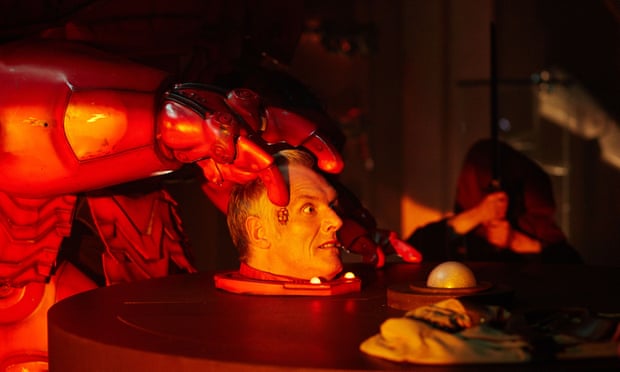 The rest of the characters are a great mix of British comedy talent, as is the tradition with the Christmas special. The villain is played to full, pantomime levels of evil by Greg Davies while Matt Lucas makes his Doctor Who debut as River Song's henchman. It makes for a very light-hearted approach to the episode rather than a more menacing one like the 2014 Christmas special.
This isn't the perfect episode. For starters, for a Christmas special, it struggles to really capture the time of the year. Compared to last year which featured Santa Claus, this episode could be aired in May with no real feeling of clash or seasonal issues. It also misses some real threat and danger. It is a very funny episode and that was clearly Moffat's aim but he has demonstrated that he can mix scary with humour and it was lacking here.
These are minor complaints though and it was actually one of the better Capaldi Doctor episodes. It was almost better than anything that featured in season 9 (apart from Heaven Sent) and hopefully leads to a more focused, simpler and less complex season for the 10th.
Overall, The Husband's of River Song is a return to form for Moffat. He delivers an episode that is self-contained but pleasingly references the past. It is simple but not too silly and captures the best elements of the two main characters. Alex Kingston is on form as the returning River Song and Peter Capaldi seems to relish his tenure as The Doctor. Hopefully a return to some consistent form leading into the 10th Season.
Rating – 4
(1 – Awful, 2 – Average, 3 – Good, 4 – Great, 5! – Must See)