You can tell Resident Evil feels at the top of their franchise strength as Retribution is their biggest collective movie to date. It has a cast which stretches back through all of the movies so far, adds some great new characters to the mix and has a "global" setting which gives the movie a more grand scale.
Unfortunately, what this ultimately translates to is a much more generic action movie than the previous instalment which offered something better and cleverer. As it begins though, you wonder what the movie has in store. It has two "false" beginnings, one which shows how the Umbrella corporation may have started the whole outbreak (in a cool Japan set sequence) and another showing the life that Milla Jovovich's Alice could have had if the events of Resident Evil hadn't occurred. They are brief moments of unique, intelligent story within a movie which becomes nothing more than a scene-by-scene slug-fest with hordes of zombies and the occasional larger monster to contend with.
Not that this is wholly negative. These action sequences are done very well. There are some very cool moments for each of the new characters and returning classics. Milla Jovovich's Alice steals the best of the moments for herself though and one set-piece involving a mace on a chain and endless zombies is a highlight.
Those returning characters offer a very good connection to the past movies which the returning and faithful fans deserve. Larger characters, like Michelle Rodriguez's Rain return, while the likes of Boris Kodjoe, the best of the support characters in Afterlife, also makes a triumphant comeback.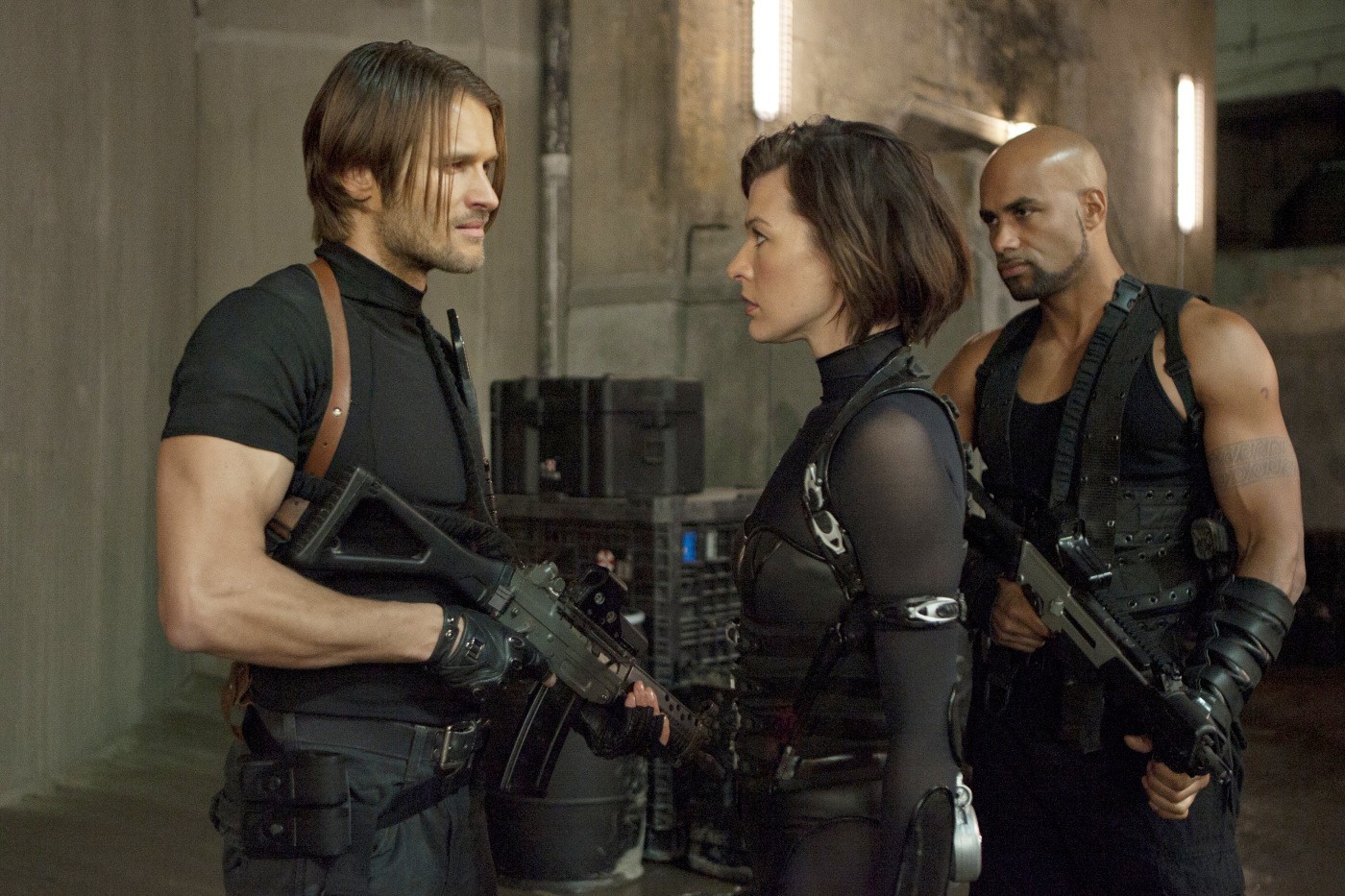 For the video-game fans there is a long-awaited appearance for game favourite Leon Kennedy, brought to life faithfully by Johann Urb. Alongside new additions is also another kick-ass female in the guise of Bingbing Li's Ada Wong. These additions offer more people for the zombies to attack and more people to fire guns, decapitate the undead and have their slo-mo moment of glory.
The environment also offers a clever story-telling device, taking the action from the streets of Japan to London, through the franchise stable of sterile labs and computerised rooms. There is even a quick trip back to the mansion from the first film to add that nostalgic continuity.
It all makes for a solid movie although it does feel like a step-back considering how good Afterlife was. It doesn't stop it being any less entertaining though and five films in, Resident Evil clearly knows what it is, what it wants to be and delivers upon that in droves.
Overall, Resident Evil Retribution is a solid step forward while effectively referencing the past. There are moments of originality in the well-worn formula but these are soon put aside for the cooler, zombie-killing slo-mo action sequences.
Rating – 3
(1 – Awful, 2 – Average, 3 – Good, 4 – Great, 5! – Must See)
As always get in touch below with a comment but also like our page on Facebook (Views from the Sofa) or follow us on Twitter – @viewsfromsofa