As events continue through The Wife, you soon realise that you've seen this story before. To tell you where would be to give too much of the eventual story and it's revelations away but once those moments do occur, you soon realise that this movie doesn't have the originality that it first appears to. Instead, the promise of the movie is in the under-stated and accomplished performance by Glenn Close.
We have come to expect great performance from Close so this should be no surprise but The Wife offers Close a role where the huge dramatic moments come few and far between and instead she has to do a lot with a smaller, nuanced performance. We watch as her husband receives the Nobel Prize for literature and she then follows as he begins the very public weekend of acceptance, which includes parties, meet and greets and plenty of well-wishing. The best aspects of Close's performance come when she is forced into these situations, clearly troubled by an undisclosed secret in the couple's marriage.
The secret itself is worthy of the story and one which, when discovered, does have the required volcanic and dramatic scenes. The secret is held close for a long part of the movie and teased slowly, hinted at with slips of the tongue or incredulous denials. It is a very clever device and is never less than intriguing as slowly but surely the truth begins to emerge.
This is also teased through flashbacks, re-telling the story of the older couples first meeting and courtship. These are the weakest aspects of the movie until you realise what story they are actually telling and how slight revelations seep into the wider secret the movie hinges upon.
The best of the movie is when Close shares the screen with her husband, played by Jonathan Pryce. Pryce is under-appreciated and delivers almost every-time so is a steady hand in the scenes with Close. As you slowly understand what the movie is really about, you see that Pryce's award-winning author is a much more complex character than he first appears and you also get a deeper, more concerning layer to the marriage at the centre of the movie.
Unfortunately, but only to a small extent, the fact that the secret which this movie hinges upon has been done at least twice before (and recently, one of which released this year) does damper the impact somewhat. It doesn't have the same effect once the truth begins to emerge because it feels much more common and to some extent understandable.
Overall, The Wife is a great showcase for the undoubted talents of Glenn Close, who gives a solid and understated performance as the titular Wife. The story effectively drip-feeds a revelation which manages to unfold to a dramatic finale but does have too much of an air of familiarity about it which undercuts it's effectiveness.
Rating – 3.5
(1 – Awful, 2 – Average, 3 – Good, 4 – Great, 5! – Must See)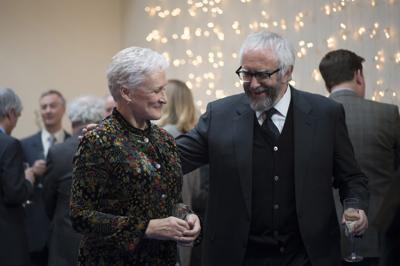 As always get in touch below with a comment but also like our page on Facebook (Views from the Sofa) or follow us on Twitter – @viewsfromsofa