Two Popes is held together, not necessarily by the story, but by the two powerhouse performances at its core. Anthony Hopkins and Jonathan Pryce are fantastic as the titular Popes, who have some fundamental differences in views but a respect which plays as an electric tension throughout the movie. You may not know the Popes of the movie, or whether the two actors are portraying them accurately, but their performances is enough to keep you invested throughout.
The story itself is a good one. Having gone as far as he feels he can in a Catholic Church which does not seem progressive enough, Pryce's Cardinal Jorge Bergoglio wants to resign his position. This goes against the wishes of Pope Benedict, who has similar thoughts of his own. It doesn't necessarily sound like a thrilling premise but it is in the delivery of the tense, heated and compelling scenes where the movie's magic lies. Pryce and Hopkins have fantastic chemistry and their points of view are both fair and interesting. Even if you are not necessarily a religious person yourself, or at least not Catholic, you will still find their views compelling and the way they see the world religion progressing in the future a good argument to watch.
If the film doesn't necessarily represent the two real-life people accurately (which it might but I can't comment on that here), it certainly shows a different side to the role of Pope. Giving an intriguing inside view of the Vatican and the private lives of the people that dedicate themselves to God, it humanise a role which is usually steeped in so much mystery. The workings of the Vatican and what is revealed here, again with perhaps questionable accuracy, is as fascinating as the story.
There is also other aspects to the church that a film steeped so heavily in Catholicism couldn't ignore, namely the accusations of sexual abuse by priests. Although this isn't confronted head-on or in as much depth as it should, there is a key scene which gives it a footing and plays as a passing of the torch for the role of Pope and the way key points are addressed going forward.
The major issue with The Two Popes is the lack of confidence it has in it's own story and the characters at times. There is a reliance of flashbacks which doesn't work as effectively as the main narrative of the story. These elements distract from the great work of the two central actors and jar with what is trying to be done.
Overall, The Two Popes is a masterclass in minimalist storytelling and the reliance on two fantastic actors to deliver the story. Hopkins and Pryce have great chemistry and bring a fairly slow tale to life with tense, dramatic scenes. Flashbacks distract but not enough to make this less than a powerful showcase of religion and it's place in the world today.
Rating – 4.5
(1 – Awful, 2 – Average, 3 – Good, 4 – Great, 5! – Must See)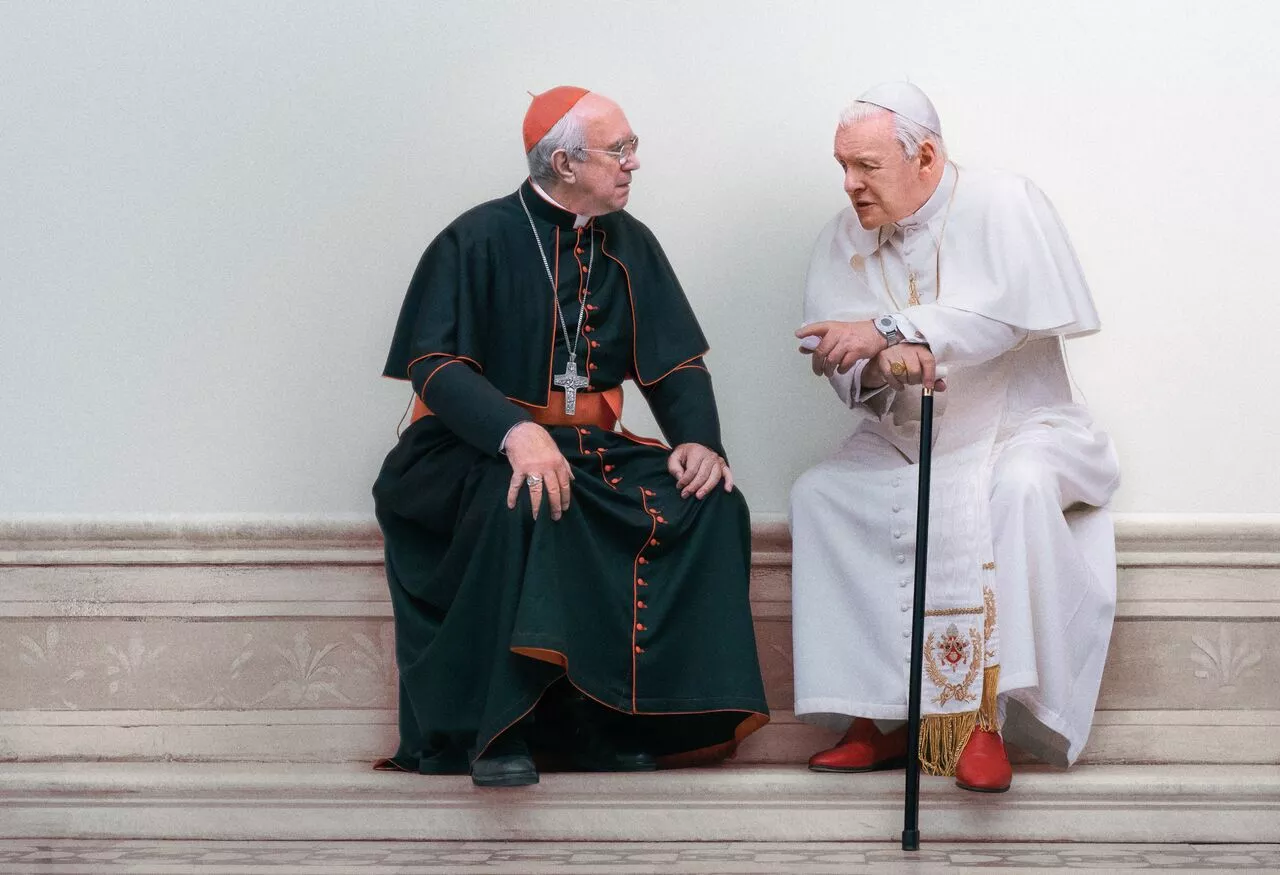 As always get in touch below with a comment but also like our page on Facebook (Views from the Sofa) or follow us on Twitter – @viewsfromsofa