I've been a comic book fan for as long as I can remember and Spider-Man No Way Home is as close to reading those comic books as you can get. Not because of the great realisation of Spider-Man on-screen but because this is the realisation of the ambition that having a shared Marvel Cinematic Universe can actually deliver. Whereas Infinity War and Endgame managed to bring together all the heroes that had been established in the MCU so far, No Way Home manages to bring together the Spider-Man movies that have been released by Sony previously as well.
I'm don't just mean the other MCU movies, I mean the Sam Raimi directed films and the movies starring Andrew Garfield. That is because No Way Home begins to introduce concepts and ideas that any "normal" superhero movie could only dream of because it has laid the groundwork for this style of storytelling over 15 years and over 20-odd movies. So it isn't unusual or better yet, confusing, to see Tom Holland's Spider-Man reaching out to Benedict Cumberbatch's Doctor Strange, in fact you don't even bat an eyelid. It also makes perfect sense when events lead to the idea of a "Multi-Verse."
This is what ties No Way Home with the other Spider-Man movies released since 2002. As Holland's Peter Parker tries to undo the events of Far From Home, he brings all the major villains from the previous movies back into the newly established MCU. This means its a welcome return for Alfred Molina's Doctor Octopus, Willem Dafoe's Green Goblin and Jamie Foxx's Electro.
Other major villains from the previous Spider-Man movies are present and correct here too, but the three aforementioned villains get the best of the movie and the story. Foxx's Electro is the weakest in development but the coolest in character here, getting some great lines and a decent story-arc of his own. Molina and Dafoe continue to deliver two of the best villains Spider-Man has ever produced, with Molina still the conflicted scientist trying to save the world while Dafoe is as unhinged as ever. Its the perfect way to bring these characters back and it shows how great these villains were in their original movies.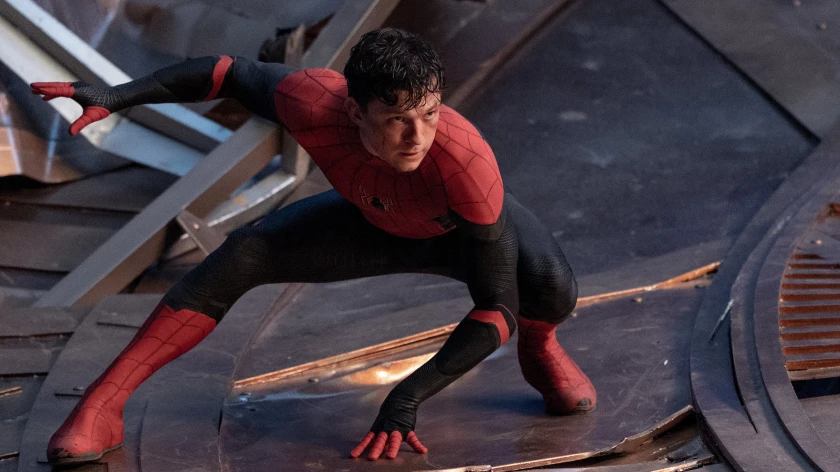 That takes nothing away from Holland's Spider-Man. In fact, what it does is highlight how different he is from his previous versions. Holland is a more sympathetic, genuine and arguably naïve Spider-Man which means that bringing these villains back isn't just a stunt but leads to a story with some actual depth. Its also the Spider-Man movie with the most emotion, biggest stakes and most impact, as events here have far reaching consequences for the wider MCU (as they always do).
Its being part of that wider MCU which does hold-back the Marvel Cinematic Universe movies though. More and more, these films are feeling like chapters in the wider story and although it can be watched as a stand-alone movie, you never get away from the feeling that this is setting other stories up ahead of it.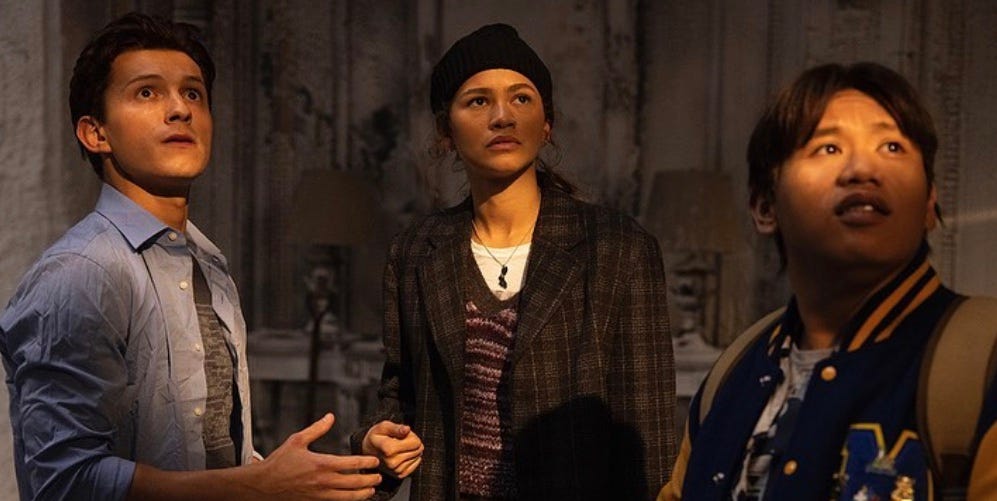 It also falls into the usual traps of the Marvel movies now. Its a very story-led movie, with some great emotional scenes and development of key characters, however this means the action scenes suffer and where some of Spider-Man's set-pieces have been staged very well, No Way Home seems far more chaotic and messy, becoming confusing and indistinct at key points rather then delivering crisp, well-told action sequences.
The film also has trouble juggling the vast amount of characters its introducing. The new villains all get some decent development (even the weakest, like The Lizard) and of course there has to be room for Doctor Strange. This means that aside from the opening act, Zendaya's MJ and Jacob Batalon's Ned become little more than "sidekicks" and don't get much major development themselves considering they are major characters in this series. On the flip-side of this is Marisa Tomei's Aunt May, who gets much more to do, drives aspects of the story forward and gets her best showing yet.
Trying to ensure everyone got a fair showing was always going to be tough seeing as No Way Home serves two key purposes. As a movie tying-up the loose ends of the Sony Spider-Man franchises, it works perfectly. It means that the much maligned reboots and the fourth Raimi Spider-Man movie which never emerged, actually matter and closure is reached.
As a way to develop both Holland's Spider-Man and the MCU as a whole, it also succeeds. For the former, there is a hopefulness at the end of this movie which hasn't been properly seen since Raimi's Spider-Man 2 and the future for this character is exciting. As always, there are plenty of teases with where the wider MCU is going and those are best demonstrated in both post-credit scenes.
Overall, Spider-Man: No Way Home is as ambitious as the MCU has gotten so far and is great because of it. It brings together all the Spider-Man movie so far, delivering key story-arcs and redemptions for past villains while ensuring that those mistakes of the past Spider-Man movies are someway forgotten. Its the most emotion driven movie so far, with Holland top of his game. It does suffer from from over-filling its character roster and the action sequences could be staged better but as a love letter to Spider-Man the character, it is perfect!
Rating – 4
(1 – Awful, 2 – Average, 3 – Good, 4 – Great, 5! – Must See)
As always get in touch below with a comment but also like our page on Facebook (Distinct Chatter) or follow us on Twitter – @distinctchat