Molly's Game is Aaron Sorkin's directorial debut and it has his style all over it. Molly's Game is a well-told, superbly written and engrossing drama that catches you from the very beginning and refuses to let you go. Sorkin wrote the movie too and although you could argue aspects of it fall into some pretty heavy cliche, Sorkin manages to make the film feel fresh throughout.
Molly's Game is a true rags-to-riches-to-arrest story. From the very beginning you are aware that Molly Bloom will be arrested and that she has done crimes which are hefty enough for her to have to go an impressive but reluctant lawyer. It is through this lawyer and his understanding of the case that we get Bloom's story, played in flashback, throughout the movie.
It is a great story. Bloom starts from nothing in LA and soon finds herself running one of the most exclusive and impressive high-stakes poker games in the country. She is notorious within the right circles and the fact that this story is true (but subtly protects some of the very famous people involved) adds to the overall intrigue. It is also a story that is clearly destined to see Bloom fail (not just because of the foreshadowing) but as you see her succeed, you're on her side and almost revel in the expensive lifestyle she begins to live.
Of course, all good things must come to an end and this is where Sorkin's writing is superb. It is a story that would be interesting from A-B but Sorkin frames it with asides set in the "present" which make the story more intriguing. Information is "drip-fed" and as Sorkin builds layers to the case against and defending Bloom, we get another much needed piece of the puzzle.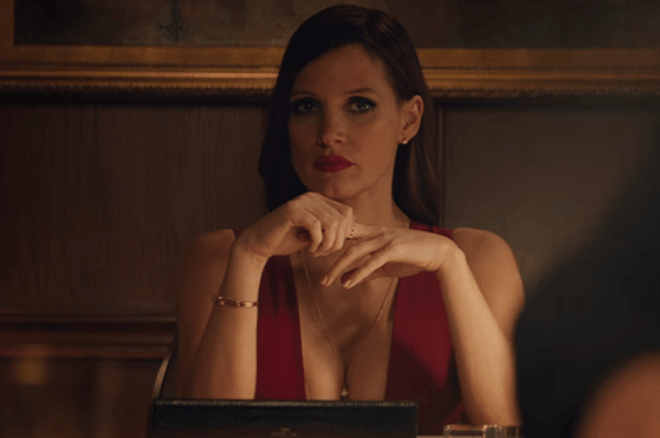 It could have been a complicated puzzle too. Bloom is involved in the world of high-stakes poker gambling, with its rules, plays and techniques. All of this could have been extremely alienating but the film explains without patronising and never indulges too much in the technicality. It means you get a movie which doesn't talk down to the audience but does enough to keep you following and engaged.
Of course, Sorkin's writing will always help with this too. His trademark wit, pace and word-play are all present. The movie has his vein of humour, sometimes dark, fed through the script and iconic scenes and exchanges emerge, like one involving a disastrous police interview that gives both Bloom and her lawyer the upper-hand.
The cast have to be equal to delivering this whip-pace writing though and luckily there are no worries in that regard. Taking leading lady duty is Jessica Chastain as Molly Bloom and she commands the movie. She steps-up in the scenes of confidence and convinces as a high-roller but also plays the dramatic perfectly too, particularly when her world comes crashing down around her.
She is ably supported as well. Idris Elba plays the put-upon lawyer who is trying to get her acquitted while Costner continues his career renaissance as a strong supporting character with a turn as Bloom's oppressive father. In some respects, Costner does some of his best work in a while here.
Not all of these ingredients make for a perfect movie though and Molly's Game does run out of steam as it reaches it's conclusion. The ending doesn't quite match the rest of the movie and the story doesn't have the grand crescendo you'd hope for. That will always be an issue if a movie tries to capture the truth of a situation though and it certainly doesn't ruin the movie.
Overall, Molly's Game is a fantastic film with a great script, compelling story and the cast to match. It is a gripping tale which involves complicated subject material at times, but Sorkin handles this effortlessly. An under-whelming ending aside, Molly's Game is a win.
Rating – 4.5
(1 – AWFUL, 2 – AVERAGE, 3 – GOOD, 4 – GREAT, 5! – MUST SEE)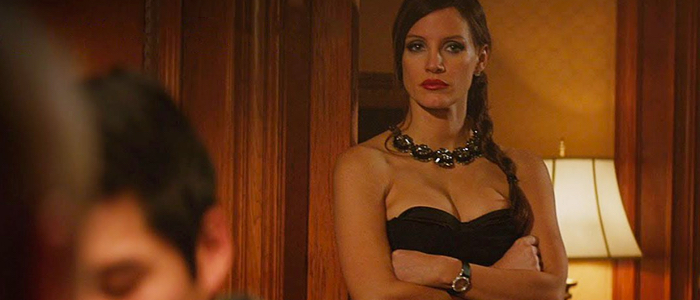 As always get in touch below with a comment but also like our page on Facebook (Views from the Sofa) or follow us on Twitter – @viewsfromsofa